Licensees :
SIDNEY WILLIAM BUCKLE
27.08.1940
HARRY BURGESS
Brewery representative
12.12.1944
JAMES HENRY ENGLISH
06.07.1948
ERNEST WILLIAM PIGGOTT
04.07.1950
JOSEPH CHARLES EDMUND ALDOUS
by 1953
DENNIS THOMAS BATTLE
13.12.1960
LEONARD JONES &
REX EVANS
20.03.1978
LEONARD JONES &
MELVYN ERNEST MORLEY
12.04.1979
-
-
-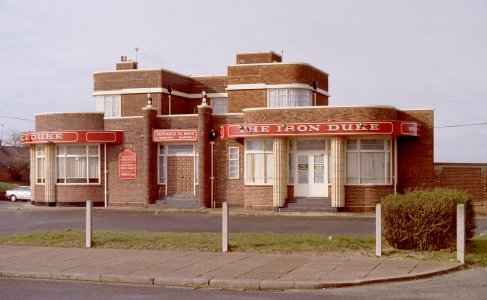 February 1995

First licensed 27th August 1940, to serve soldiers protecting the north Denes, although construction was incomplete.
Licence of the
MIDDLEGATE TAVERN
removed to this house by special transfer.
Building completed 1948.
The bar was said to be made from materials from Admiral Jellicoe's flagship, HMS Iron Duke.
Address as North Cove according to Licence Register.
Closed and boarded up by 2008.


Demolition proposed August 2017 - but application made to English Heritage to obtain listed status.

Grade II listing granted November 2017.