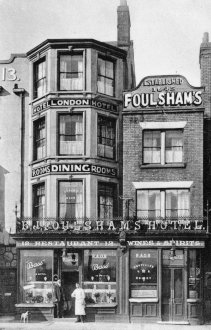 c1915
Seemingly known as
FOULSHAMS
(est. 1845).
for most of its life.
B. J. FOULSHAMS HOTEL
displayed on building during the
time of M. W. Morgan being licensee.
Also found as the
LONDON DINING ROOMS

.
The application for a wine licence, made Thursday 28th August 1873, by Henry Foulsham, was granted.

On Thursday 22nd August 1878, the application by Mr. Henry Foulsham of the CRITERION HOTEL, for renewal of his wine licence, was adjourned to a following session since there were proceedings pending against him.

The licence was merged with the adjoining BLUE ANCHOR 03.02.1933

This building and that of the Blue Anchor were demolished April 1964.
Site became a bank.


See p. 7 of `Gt. Yarmouth In Old Postcards - Vol 1' pub. 1990