Licensees :
GEORGE RACKHAM
age 32 in 1851
1850 - 1854
MATTHEW HENRY WINDER
also as Windy 1856
06.1855 - 1865
ROBERT BONING
1868 - 1872
Mrs SARAH SQUIRE BONING
1875
DONALD AUGUSTUS CURRIE
1877 - 1892
GEORGE F. TOMPKINS
17.06.1892 - 1896
EDWARD WINTON
1900
WILLIAM W TIPPETT
Hotel Manager
1901
EDWARD WINTON
by 1903
THOMAS HENRY WILLIAM KEATES
10.07.1903
JOHN GOODE
07.04.1908
(J & W. F. Goode prop.)
(1934 & 1937)
HARRY BURGESS
25.10.1938
MAURICE POWELL DREWERY RAINER
09.07.1946

GEORGE CHARLTON HODGE &
IAN FREDERICK ALLEN
10.07.1975
RAYMOND JOHN SMITH &
IAN FREDERICK ALLEN
06.07.1978
CHRISTOPHER P KELLAWAY &
IAN FREDERICK ALLAN
04.12.1980
-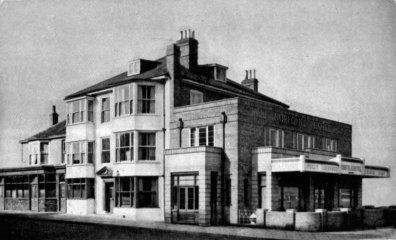 c1950
Previously the
YORK HOTEL.
George Rackham informed the Public, 8th June 1850, that the Hotel was now open, elegantly Furnished and offered extremely moderate charges.
An Ordinary to be provided every day at Half-past Two o'clock.
Fish and Joints 2s each.

The Well-made Furniture for 9 Sitting-rooms and 13 Sleeping-rooms, Bar Utensils, Plated Goods, Kitchen and Store-room Articles and a few Choice Paintings, also furniture throughout the Premises were offered for sale by auction Thursday and Friday 3rd and 4th November 1853. House then in occupation of Mr. George Rackham.
~

Matthew Wilder advised 16th June 1855 that he had taken the Hotel.
He offered Private Apartments for Families, with the Finest Sea Views.
Dinners provided at the shortest notice.
Families supplied with Wines, Spirits, Stout, Porter & Ales, both in bottle and on draught, of the finest quality.
Cigars of the Choicest Description.
Servants charged in bills.

~
Offered for sale by auction Thursday 26th August 1858.
"Art has been joined to nature in the splendid Marine Drive, 100 yards of which are already made and a further 1000 yards are under construction. At right angle stand the newly erected Wellington and Britannia Piers. The Hotel commands an extensive view of the sea from Lowestoft Ness to the Cockle Gateway. In excellent repair and well supplied with water from the Yarmouth Water-works Company. There is sufficient space for several more bed-rooms"

~

Closed for the duration of WWII according to a letter dated 01.10.1940.
Reopened 21.05.1946.
Became the DICKENS HOTEL March 1977,
Later BOOBS (1987)
then CHEERS
followed by BOSTONS.
In 1997 it had become the MOSQUITO LOUNGE
and by Oct 2005 RUDEYS