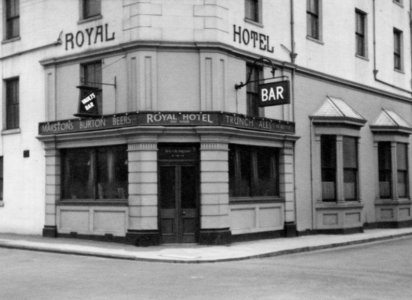 The
VAULTS BAR
c1930.
A Free House selling Marstons Burton Beers, Trunch and Worthington Ales.
BIRD'S ROYAL HOTEL & POSTING HOUSE
when opened.
The first `Seaside Hotel' to be built at the resort.
The Opening Dinner of Mr. & Mrs. Bird was advertised 9th May 1840 to be held on the 20th May 1840. Tickets 12s each.
Mr. & Mrs Bird, late of the Star Inn, announced 27th June 1840 that the Delightful Marine Residence had been completed.
Gentlemen seated in the Hotel would enjoy a Panoramic view of the Sea, with its undulating bosom studded by hundreds of vessels coasting within 300 or 400 yards of the house...........
For the 1841 Season, Mr. & Mrs. Bird provided Hot and Cold Sea Water Baths for the accommodation of visitors, whenever required.
31st March 1842 - Mr. & Mrs. Bird thanked the Nobility and Gentry from all Counties for the support they had experienced for three Seasons and informed that in consequence of that support, at considerable expense, they had made Additional Bed Rooms, with Dressing Rooms and Hot and Cold Sea Baths.........
The same announcement advertised the need for an additional Chamber Maid, of good character, to join the staff.