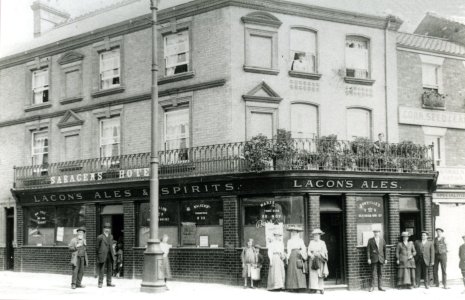 Formerly the
CART & HORSE
(1822)
Advertised Saturday, 29th October 1842, To be Let. Described as a well-known and much-frequented Free Public House and well calculated for a Boarding and Lodging House. Immediate Possession.
Conveyed 17th June 1884 (As SARSONS HEAD) from George Lucas, William James Steward, John Baker and Jane Parker Ferrier
(Ferrier & Co) to Donald Steward and Henry Staniforth Patteson.

On Thursday 2nd March 1905, an application was made to create a doorway from Church Plain into a room which was used as a market room on Wednesdays and Saturdays. Without the door the only access was through the bar. The new door would replace a window and give easier access. The Chief Constable had no objection and the alteration was sanctioned.
Closed for trading 9th December 1968
Licence surrendered 28th January 1970
Premises used as an insurance office by 1996.
See page 31 of `Gt. Yarmouth Archive Photos' published 1995.