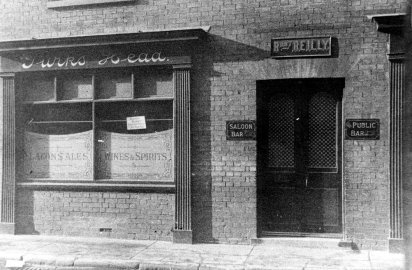 Showing a name board for Robert Reilley, 1921 - 1931.
Image thanks to Colin Tooke.

Located at the SE corner of Row 96.
Previously the
WHITE BEAR
to c1842.
New frontage added in 1870's.
Address 166 Middlegate Street 1886
On Friday 13th January 1905 the licence was transferred and it was stated that the rent was £30 per year.
Demolished by enemy action 09.07.1941.
Destruction confirmed in a letter from Lacons dated 11.08.1941.
Licence in suspense 4th January 1942.
Licence restored 23rd August 1952

Charles Thomas Banham awarded licence 18th August 1953
Licence removed to site at corner of Brasenose Avenue and Girton Road, Gorleston
10th September 1963 (FASTOLFE ARMS)







See page 92 of ` Gt. Yarmouth In Old Photographs ' Pub. 1994