Licensees :
LOVICK ANSTEAD BROWN
1856
CHARLES J ABLITT
(also at Queens Hotel)
1861 - 1863
THOMAS ROLFE COSGROVE
(Went to Lord Nelson, Timberhill, Norwich)
1864
J. J. THEOBALD
08. 1864 - 1865
CHARLES JOHN ABLITT
1868 - 1871
THOMAS BERRY
1875 - 1881
JAMES POTTER
1883
HENRY J. POLL
1888
THOMAS LLOYD
1890
WILLIAM ROYAL
1892 - 1896
ROBERT CATCHPOLE
by 1900
WILLIAM RAY SWANSTON
16.05.1933
Convicted 20.10.1933 of selling out of hours.
Fine £10 or 2 months in detention.
Convicted 21.10.1936 of selling out of hours.
Fine £3.
LESLIE PARKIN
09.06.1959
WILLIAM ROY GEORGE
14.12.1965
CLIVE EDWARD PARKIN
08.09.1977
-
Location as Tower Road in 1865.
14 Blackfriars Road in 1881 & 1883.
On Thursday 23rd June 1853, All that extensive Freehold Bowling Green and Pleasure Gardens, with House and Erections thereon, called the Victoria Gardens, was offered for Sale by Auction.
The site included two genteel Dwelling-houses, Green-house and Gardens, a Green Grocer's shop and four adjoining Building Sites, Two Cottages with Stable and Ground, about 40 Lots of Land, comprising 140 Building Sites; also a commodious Freehold Family House in occupation of Mr. Joseph Davey.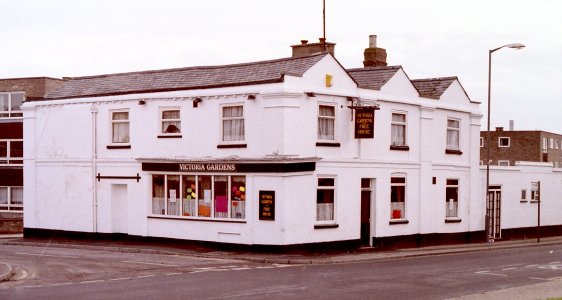 November 1996
Rear of building shows date stone 1855
and another bearing initials W+C+R.
This view would have been seen from the Royal Victoria Gardens
(1855 - 1872)

In a band contest, held here during the week of 18th August 1861 there was an altercation between Mr. Ablitt and Mr. Cosgrove. On 31st August 1861 Mr. Thomas Rolfe Cosgrove, then of Upper King Street, Norwich, published the following:-
` I admit that Mr. Ablitt ordered the police to remove me from the gardens, which they wisely declined, but deny that I made any apology whatever to Mr. Ablitt. Mr. Ablitt was determined that Mr. Jackson's band should not play for his cup and I, who was deputed by them to see they had fair play, was determined they should and by appealing to a respectable audience, who were unanimous in having the arrangements carried out with integrity, Mr. Ablitt was obliged to give way.'

~

Two concerts for the `Farewell Benefit' of Mr. Cosgrove were held Tuesday 16th September 1862. The afternoon attendance was limited, but a fair number attended the evening performance. The band consisted of about sixty performers, being an amalgamation from bands of the East Norfolk Militia, Norfolk Volunteer Artillery, the 1st Norfolk Rifle Volunteers, the Yarmouth Rifle Band and Mr. Howlett's Brass Band of Norwich. Mrs Godfrey, from the Crystal Palace, Sydenham sang with expression and sweetness, the Brothers Caravella went through a variety of executions `a la Leotard' and Mr. Tallen Welch, the buffoon singer, excited much amusement. Considering the great expenses of the entertainment the benefit to Mr. Cosgrove was expected to be very small indeed.
It appears that Mr. Cosgrove had to stay until August 1864.

~

Advertised for sale 6th August 1864.
(In consequence of the present occupiers term expiring at Michaelmas day next) to be submitted to public sale at Garraway's Coffee-house, Change Alley, Cornhill, London on Monday August 29th at twelve for one. (Unless an acceptable offer is previously made)
A valuable FREEHOLD ESTATE with early possession, called the VICTORIA GARDENS, situate, and being at the corner of Blackfriars Road and Alma Road and within two minutes walk of the Marine Parade and Wellington Pier, Great Yarmouth In selecting the above site for the erection of a Tavern and place of Public Amusement great judgement was displayed, for it's positions renders it peculiarly convenient for the pleasure seeking public. The premises are exceedingly spacious and comprehend a well arranged Tavern and Tap. Large Pleasure Grounds, studded with timber and ornamental Shrubs, superior Lawn, or Bowling Green, Alcoves, Al-fresco theatre, Dancing Saloon (convertible into an American Bowling Alley), Maze, Refreshment Bars and the usual appliances for a place of public resort.

~

Purchased by Mr. Theobald at auction, at Garroway's Coffee House, on Monday 22nd August 1864 for £2,400 Advertised October 1868 to be sold or let - The VICTORIA GARDEN'S TAP with large piece of Ground attached. Can be Immediate Possession.


Described in 1934 as at 22 Blackfriars Road, on NW side of street at corner of Malakoff Road and adjoining Love & Son, bootmakers.


Morgans sales for 1960 were :-
240 barrels of beer.
98 (gallons) of spirits.

Closed & demolished by January 1999 - Houses built on site..