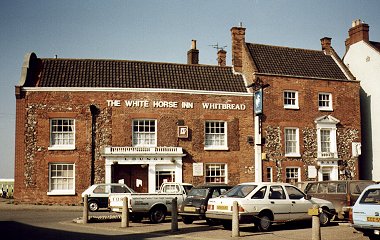 1986
The
GOLDEN KEYS
pre 1780.
Offered 27th May 1780 - To Let and to be entered immediately.
In full trade, with all stock, furniture and every other suitable accommodation. Apply to occupier John Eldridge.
15th February 1781 - John Baker, late servant to Mrs. Miller at the
HALF MOON
, informed that he had taken the Inn and would enter on 3rd March.
Address as North End in 1822, 1846 & 1854.
Church Plain in 1836.
8 White Horse Plain 1871
14 Northgate Street 1886
20 Northgate Street 1937.
Located on the South East corner of Row 7 Rainbow Corner to Northgate street.

~

22nd July 1820.
Henry Dawson thanked his friends and the public for their support and informed them that he had erected a Weighing Engine for their better accommodation and for its convenience and particularly its Correctness.

~

Samuel Balls held his Opening Dinner Wednesday 17th July 1850.
Sir Edmund H. K. Lacon, Bart. presided over the sumptuous dinner.
Friends from Norwich presented Mr. Balls with a very elegant and chaste silver snuff-box in recognition of the unvarying courtesy and attention they had received from Mr. and Mrs. Balls.

~

Mr. Larke gave his annual dinner on Wednesday 23rd January 1861.
Sir E. H. Lacon, Bart., M.P. presided.

~

Charged 25th August 1865 with having his house open at a quarter past twelve the previous night, Mr. Snowling proved that all those in the house were respectable strangers and no liquor of any sort had been drawn for them. The house was acknowledged to be very creditably conducted. However it was unfortunate that Mr. Snowling used some very unguarded expressions to the police constable who visited the house and as a consequence was fined 20s plus costs.

~

In a notification dated 21st March 1867, Mary Ann Snowling informed her Friends and the Public that she would carry on the business of her late husband Daniel R. Snowling.

~

Purchased by developers April 2004
and converted into 3 `Town Houses'.