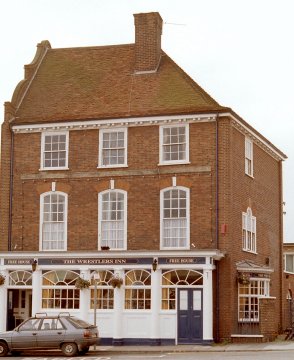 September 1997
Referenced 1674, 1691, 1750 & 1774.
The Commissioners for the repair of the Pier were to meet here Monday 16th June 1750.
In 1764 it was the termination point for the `Flying Coach on steel springs' run by Job Smith between Gt. Yarmouth and Norwich.
ALLDAY & KERRISON announced that in pursuance of his Majesty's Proclamation, they would be at the house Wednesday 1st May 1776 to exchange deficient gold coin, coined before 5th January 1772. Guineas, Half Guineas and Quarter Guineas would be exchanged for new coins, provided they were within weight limits.
Advertised For Sale or To Let, 24th December 1783 and again 24th January 1784.
Late in the occupation of John Orton, but then occupied by the owner, Job Smith who would decline the thoughts of Selling if it were Let.
Offered For Sale by Auction Monday 18th September 1786, in occupation of Mr. Suckling with a lease due to expire at next Midsummer.
All the Premises Freehold, except the Coach-house and one Stable which were a short distance from the house and Leasehold.
Known as the NELSON HOTEL for some 20 years after Nelson had landed in Yarmouth 6th November 1800, following return from the `Battle of the Nile'.

For Sale by Auction Wednesday, 30th April 1800, late in the occupation of John Suckling, deceased.
Enquire of Captain Suckling, Norwich, Mrs Suckling at the premises or of William Taylor Esq., Yarmouth.
< It was notified February 1895 that Mrs. Suckling, wife of John Suckling of the Wrestlers, had died, so had he remarried?>
John Buck announced 1st August 1800 that he had taken the Inn. He had fitted it up with every convenience for the accommodation of the Nobility, Gentry, Officers of the Navy and Army, Gentleman Travellers, &c.......

Offered Tuesday, 28th December 1802, to be Sold by Auction. Lot 1 being the Wrestlers or Nelson's Hotel. Lot 2 a Coach House, Lot 3 a Stable, Lot 4 a Coach House and Lot 5, a Garden.

For Sale by Auction Wednesday 8th June 1803, the WRESTLERS and NELSON HOTEL. Consisting of six good parlours, two kitchens, excellent store rooms and larders, a large dining room, two tea rooms, upwards of 25 bed-chambers, a laundry and large drying garret, three extensive cellars, stables for 30 horses, adjoining the house and other convenient offices and out-buildings. Also a Coach-house and hayloft on Church Plain, a nine stall stable, coach-house and four carriages, and a granary, near Pudding Walls. All in occupation of John Buck with Possession at Michaelmas.

John Buck of the Wrestlers was named Clerk of the Course for the 1810 and 1813 Yarmouth Races.

For Sale by Auction Thursday, 18th November 1813.

Advertised 4th December 1813 - To Be Let. For particulars apply Mr. P. Turner, the proprietor, Market Row.


All the Household Furniture, Effects and Farming Stock of Thomas Harvey, of Kenninghall were to be Sold by Auction Monday 28th April 1817 since he had engaged the Wrestlers Inn with complete and valuable Household furniture, wines, Stock, &c..... ( He had sold his herd of ten Young Suffolk Dairy Cows and other beasts at his farm on 21st April 1817)
The creditors of Thomas Harvey were to meet 18th November 1818 to take into consideration his affairs.
All the valuable and well selected Household Furniture, Plate, Linen, Glass, China, &c., of Mr. T. Harvey was to be Sold without reserve on Monday 30th November 1818.
The Inn with valuable Tap attached was to be Let for a term of years by application.
The November sale of furniture seemingly did not succeed since on Monday 11th January 1819 all the Household Furniture, Linen, Glass, Wines, Spirits and Effects of the Bankrupt Thomas Harvey were to be Sold by Auction.

John Atkinson announced 16th January 1819 that he had taken the Inn.

10th May 1823 - Mr. R McEwan thanked all for favours received and announced to the Nobility and Gentry that he had spared no pains in improving the Wrestlers Inn and Nelson's Hotel.

On 20th December 1823, John Atkinson announced that he had again entered the Inn.
Reduced in size during the 1800's.

The WRESTLERS TAP was on the North side of Row 20 leading from Howard Street to the Market Place.
Given as the WRESTLERS TAP, Two Necked Swan Row in 1830.

For Sale by Auction Wednesday 10th April 1850, by order of the Executor of the late Mr. John Atkinson. Described as a Freehold Property, an old-established Tavern and Liquor Shop, for many years known as the Wrestlers or Nelson Hotel.


Wrestlers Plain became Brewery Plain then Church Plain.

Rebuilt after 1945 following damage by enemy action 07.05.1943.

Renamed HARDY'S February 1993.

Back to the WRESTLERS 1997.

Closed and for sale by 2013, a Chartered Accountants office by 2014