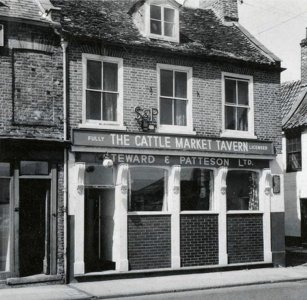 EvW

In court Monday 10th December 1860 it was heard that at one time Robert Ward, alias Farmer, had lived with Emma Rayner as man & wife.
On 27th November Ward had entered the house and sat next to Miss Rayner and asked if she was to marry anyone. Before she could answer, Ward drew a razor across her throat saying ` Before you shall marry any one else, I will do you.' Miss Rayner called her sister Mary Ann who assisted her and called for Doctor Smythe. Ward then threw the razor onto a table in front of Charles Parr, William Rungay, Edward Raby and the charwoman, Sarah Colman. Ward expressed satisfaction with his deed saying that `no one else could have her' and that he would not run away. Constable Tungate took the prisoner into custody. Doctor Smythe stitched up the wound and it was only by 10th December that Miss Rayner was able to attend court.
Ward was fully committed to Norwich Castle for trial at the next assizes.......
.............. On March 27th 1861 the defence suggested that Ward, at the time of the attack, had been in a morbid state from drink and jealously, scarcely knowing what he was about. It was also suggested that Rayner could have moved her neck whilst the razor was in Ward's hand so caused the injury by her own actions.
The attempted murder charge was dismissed, but the jury returned a verdict of guilty of cutting and wounding with intent to do grievous bodily harm. Sentence two years' imprisonment.
~
To be Sold by Auction Thursday, 5th May 1864.
Located on the west side of Broad Street and in the occupation of Mr. John Enefer.
~
On Monday 3rd September 1900 Henry Whittaker was summoned by Mary Clifton, of Broad Street, for an assault on her. Wearing bandages to her head, Clifton claimed that following her arguing with another woman, she had been seized by the neck and ejected from the house, by being thrown through a window. This story was said to be most impudent since one witness said that she had deliberately put her own head and shoulders through the window. Mr Whittaker said the he was nowhere near her when she fell through the window.
The charge was dismissed, as was a counter charge of refusing to quit, but she was fined 1s plus 2s damages and 4s costs.
Leased to Bullards - Lease not renewed upon expiry 25.03.1904.
Damaged by enemy action 12.06.1942.
Market day extension granted during 1956.
`Temporarily closed 08.05.1964'.

70 barrels of beer sold in the final year of trading.

Licence surrendered upon grant of Off Licence to same premises.
Purchased by Green & Wright and converted into an Off Licence which opened Thursday 25th November 1965