Licensees :
ROBERT ALDERTON
04.09.1850
JOHN SMITH (44)
1851
ROBERT WARD
Age 55 in 1861
1854 - 1861
January 1860 - Fine of 10s and 13s 6d costs for having five persons drinking in the house at improper hours on Christmas Day 1859.
DANIEL WEST
Age 53 in 1871
See opposite.
by 1863
Saturday 29th April 1865 - Ordered to pay costs of 9s 6d having been charged of having his house open for the sale of beer, during the hours of divine service, on the morning of Sunday 22nd April. He believed the four men found drinking in the house at 11:00am were travellers, as allowed by law.
?
Fine of 40s and 12s 6d costs Monday 18th April 1870 for opening house before legal hours on Sunday 10th April 1870. This was recorded as following two previous summonses.
Fine of 20s and costs, Monday 7th October 1872 for opening his house at illegal hours on Sunday 29th September1872.
Fine of 1s and 13s 6d costs Monday 28th February 1876 for an assault on labourer Robert Downing, who had interrupted a conversation.
Fine of 20s and 8s costs Monday 25th June 1877 for having house open at illegal hours on 19th June 1877.
Fine of 5s and 7s costs on Monday 2nd January 1882 for an assault, Christmas Day, on bricklayer John Horsley, who owed money.
Fine of 40s and costs on Monday 16th October 1882 for selling liquor between seven and eight o'clock in the morning of Sunday 4th October 1882.
ROBERT WARD
11.02.1884
EDWIN MARRIOTT
13.10.1884
ROBERT WILLIAM BLYTH
(died 8th February 1892)
14.02.1887
MARY ANN BLYTH
11.04.1892
CHARLES CURTIS BLYTH
17.10.1892
FREDERICK JOHN BEESON
06.04.1896
ALBERT EDWARD TAYLOR
24.06.1901
Convicted during 1902/3 of permitting drunkenness
Fine 20/- and 7/- costs
GEORGE HERBERT DAWSON
11.01.1904
WILLIAM LIONEL ROSE
22.07.1907
Fine of 40/- plus 7/- costs imposed 13.04.1908 for permitting drunkenness
JOHN SMITH
12.10.1908
First found in the 1850 Register of Licensed Houses.

11th February 1855 :-
Daniel West, seaman, took court action against the master of the vessel Speculation, George Leaford. West had entered into articles to run from London to Hartlepool and then to Lynn for £5. Upon completing the voyage the vessel had been safely moored and the agreed wage was due. However following the mooring, t

he

anchor had fouled chains at the bottom of the harbour and been lost overboard. West refused to assist retrieval, arguing that the master's demand w

arranted extra payment, since it had been

lost overboard after the vessel had docked and as such was tidework. Instead the master had deducted 2s 6d from his wage. Hearing from the Harbour Master that he considered the vessel had been properly moored before the anchor was lost, His Honour agreed that the 2s 6d should be paid.

~

On the evening of Monday 18th May 1863, sailor Daniel West, well known in Lynn, twice plunged into the river at Friar's Quay and performed a gallant rescue of a five year old boy named Carr.

~

It was reported 7th March 1885 that Daniel West, aged 67 and formerly a sailor, but for many years landlord of the Highland Laddie, committed suicide `in a very singular manner' on Saturday night or Sunday morning last. He had left the public house because trade had fallen off and he had been unable to pay the rent. West had tied one end of a linen line to a bedpost, wrapped it twice around his neck and then secured the other end of the cord to another bedpost. He had then thrown his entire weight in a determined manner until strangulation was achieved.
~
Location 1862 given as at South Gates, opposite the Gas Works.

Address given as 2 Chapel Street in 1891.
Referred for Compensation 08.02.1909

Licence refused at Compensation Authority meetings of 21st and 23rd June 1909. Reported as an alehouse, owned by Richard Ludwig Bagge and run by licensee John Smith.
~
The licence of the Lamb had been deferred for compensation, and so bidding for the house started at a mere £150 and slowly rose to £220 at which point it was withdrawn from sale.
~
At the Compensation Meeting of Wednesday 22nd December 1909 it was stated that trade was :-
Beer, 157 barrels at 10/- (For 10 years = £785)
Bottled beer, 60 dozen at 6d (£15)
Spirits 30 gallons at 4/- (£60)
Minerals 275½ dozen a year at 6d (£68/17/6)
Rent £10 at 18 years
Giving a total 10 year value of £1108/17/6
Value of property without licence was £120
Total claim was £988/17/6

The valuer, Mr Miles, said that converting the house to a private dwelling would cost £24 and the rent would be £9/12/-.
The committee offered £900, which was accepted with 10% going to the tenant.

~
Licence extinct 07.06.1910
Stood opposite the Gas Works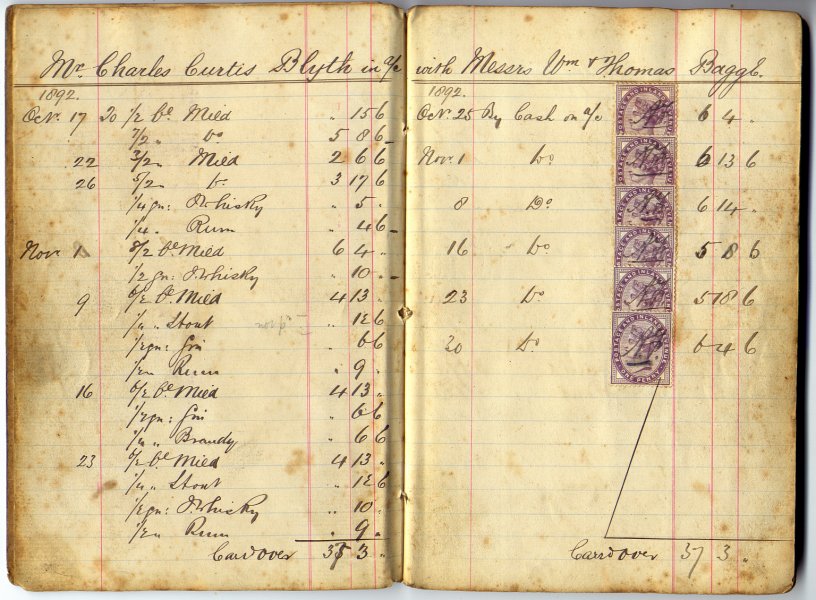 The first page of the accounts book
of Charles Curtis Blyth - dated October 17th 1892
Image thanks to Roger Holmes

Mild being greatest seller costing the landlord £1/11s a firkin (72 pints)
17 firkins were supplied between October 17th and November 23rd
Only 36 pints of Stout were supplied in the same period.
(at the total cost price of £1/5s)
Whisky, Rum and Brandy accounted for other sales.