Licensees :
-
DAVID DeCAUX
Died February 1790 - age 54
to 1790
ANN DeCAUX
1794
-
-
WILLIAM BIDEWELL
(Went to Houghton NEW INN)
to 1834
THOMAS ALDRIDGE STURLEY
age 30 in 1841
10.1834 - 1840
HENRY JOLLY
Age 35 in 1841
10.1840 - 1841
CHARLES LEEDS
(Died in Derby, 30th August 1864, age 64)
to 1845
JOHN BUSH
age 36 in 1851
& farmer
November 1845 - 1856
JOHN FRANKLIN
1858
EDWARD MIDDLETON
age 36 in 1851
(Died Q4 1865)
1861 - 1865
Mrs. MIDDLETON
here April 1866
JOSEPH MACE
1867 - 1869
THOMAS GIBSON
age 35 in 1871
*1871 - 1877
ARTHUR NICHOLLS
by 1879
THOMAS LARKMAN
age 60 in 1881 & farmer 30 acres
(Died Q2 1889 - age 68)
20.12.1880
JOHN BROWN
17.01.1889
WILLIAM CARR
& farmer
(Died Q2 1892 - age 75)
12.1889
EDWARD BIGNOLD
& farmer
age 37 in 1891
03.11.1890
CHRISTOPHER EDWARD JARVIS
(Died Q1 1892 - age 75)
21.12.1891
ROBERT WALKER
18.12.1893
GEORGE GIRLING
12.1895
JAMES SMITH
age 51 in 1901
(Died Q1 1917 - age 66)
16.10.1899
JOHN ROSS
14.10.1912
WILLIAM JOHN NICHOLLS
1710.1921
SIDNEY ERNEST BROWN
(temp licence Jan 1925 - Full licence 09.02.1925)
26.01.1925
JAMES McBAIN
02.02.1927
FREDERICK QUINCY
29.09.1930
ALBERT DUNHILL
13.07.1931
JESSE FIELDING
19.12.1932
WALTER LAMBERT
& woodman
b.16/10/1896
04.09.1939
JOHN H GUNTON
07.02.1944
GEORGE FRANCIS
03.04.1944
DOUGLAS FRANCIS
09.06.1952
DAVID L CONNELL
11.07.1957
WILLIAM MANNING
02.12.1957
JOHN L WHITTAKER
undated
(c 1959)
WALTER ALEX LARKE
17.10.1960
(Mrs LARKE)
(1967)
DUDLEY ALBERT GRIMBLE
Brewery Representative
.......1970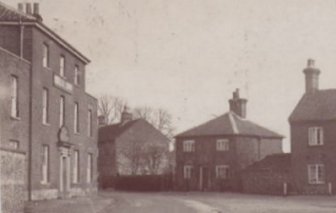 1913
Appears on Bryant's map of 1826.

Thomas Aldridge Sturley advised 25th October 1834 that having taken the Inn, he had spared no expense to render every accommodation necessary. Great attention having been paid for the comfort of Commercial Gentlemen, having provided choice Wines and Liquors, good Beds, Neat Post Chaises and Horses, and reasonable Terms. N. B. Good Hay for the accommodation of Bullocks.
(According to the 1841 census, Mr. Sturley is still an innkeeper in Bawdeswell. - Address, the Slade.)
~
Henry Jolly, Dealer in Horses, announced 17th October 1840 that he had taken the Inn and that Considerable Alterations were then being made to the Stabling to allow very superior accommodation to Gentlemen in the habit of Hunting with the Norfolk Fox and other Hounds.
In 1841, Henry Jolly is given as a Publican, living at Mill Road.
~

The Trustees of the Norwich to Fakenham Turnpike met here 9th August 1841 in order to Let by Auction for periods of two years, the Gates at Drayton, Bawdeswell (with Sparham Gate annexed), and the Langor Bridge Gate. The Bawdeswell / Sparham Gates produced returns of £244 in the previous year. 3 months advance rent was to be immediately paid by the highest bidder.

~

John Bush, for many years Ostler at the Inn, advised his Friends and Commercial Gentlemen that he had taken the premises - 29th November 1845.

~

Property described as Freehold, owned by George Morse in S&P document covering the years 06.11.1837 to 11.1851.

~

Advertised to let September 1860 including 20 Acres of Land.
Apply Steward, Patteson and Co.

~

To Let October 1866 with 20 Acres of land.
Apply Messrs. Steward, Patteson, Finch and Co.

~

Offered To Let from Michaelmas 1895 along with 20 acres of Land.
Advertised as `Near Foulsham Station'.
Apply Messrs. Steward & Patteson.
Commercial Hotel & Posting House.
Closed 07.02.1970, under the ownership of
Watney Mann (East Anglia) Ltd.
(According to Watney Mann record)

Ceased trading 04.02.1970 according to the Licence Registers.
~
Thomas Sturley and his pregnant wife Mary (age 25 in 1841) appear to have left the house in about 1843 and

In January 1844 the Bankruptcy Petition of Thomas Aldridge Sturley, then of the Dereham Road, Bawdeswell, first a Beer Shop-keeper and Farmer, since out of business, before that of Bawdeswell, Innkeeper, Farmer and Licensed to Let Horses and Gigs for Hire, was published. His case to be heard on 3rd February 1844, in London.

** On 16th November 1847 Mr. Sturley had shot and wounded Samuel Page of Cawston, (his uncle). Accused of attempted murder, he was found guilty and sentenced to death at his trial Wednesday 29th March 1848 (Age then given as 39). In 1851 Mary is recorded as a Pauper with son and in 1861 as a former innkeeper with a 16 year old daughter. In 1851 Thomas Sturley survives in Portland District Convict Prison where his profession is is given as Publican / Licensed Victualler. By 1861 he appears to be living in Swaffham with his mother and is given as a retired farmer age 53. By 1871 Thomas and Mary are again resident in Bawdeswell Street. He is unemployed. They still abide in Bawdeswell Street in 1881 where he is given as a former innkeeper, age 73. Wife Mary is 68. Thomas died Q1 1883 and Mary during Q3 1888.