Licensees :
-
CHARLES B HATCH
1846 - 1850
WILLIAM BUCKENHAM
age 50 in 1851
(Died Q3 1858)
See below
1851 - 1855
JOHN HARDY
& threshing machine 1858
& coal merchant 1865
& farmer 1869
Age 40 in 1861 - 49 in 1871 - 58 in 1881
1858 - 1888
WILLIAM PELLING
age 56 in 1891
Good accommodation for anglers;
Hearse & Mourning Coach Proprietor.
1891 - 1892
ABEL BAILEY
(Licence renewed 14th September 1899)
Died Q4 1904 - age 66
1896 - 1903
FREDERICK J ROLPH
Died Q4 1909 - age 40
28.10.1904
FLORA ROLPH
11.02.1911

THOMAS ERNEST GORE
22.04.1911
GEORGE TALLENBY DINSDALE
24.10.1919
PERCY HILL
13.04.1920
FREDERICK WILLIAM HOLMES
(Frank Holmes in 1925 directory)
20.10.1922
THOMAS MOORE
24.05.1940
ALBERT HENRY NEWBURY
04.03.1946
TOM MOORE
31.03.1946
JOHN LEONARD ROBINSON
07.07.1948
THOMAS MOORE
09.01.1948
LEONARD BOX
19.03.1948
JOHN DOUGLAS TENNANT
03.04.1950
JOHN M RIDLEY-FORSTER
02.02.1951
MICHAEL JOHN ROBINSON
19.02.1954
JACK HILL STEVENSON
05.11.1956
ERNEST LESLIE DICKENSON
28.04.1958
MICHAEL JOHN ROBINSON
& wife OLGA
07.07.1958
to at least 1964
-
| | | |
| --- | --- | --- |
| | | |
| | At the Munford petty Sessions, June 1854, Thomas Palmer, innkeeper of Brandon was charged with breaking windows of Railway Hotel whilst in a state of drunkenness. He was ordered to pay for the damage, costs and to enter into a bond of £10 to keep the peace. William Buckenham was then charged by Palmer of assaulting him on the same occasion. Mr. Buckenham was discharged upon paying costs. | |

The majority of Brandon is within Suffolk
however this house was located north of the river Little Ouse,
which defined the Norfolk/Suffolk border until 1895.
Still considered Norfolk in 1915 Register of Electors.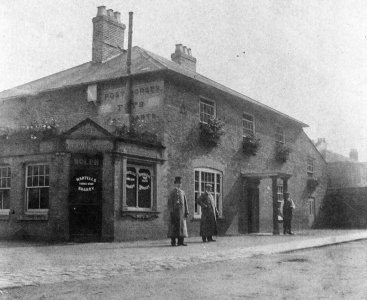 1899 in date stone above corner door.
c1904 image from time of Frederick Rolph.
Offered for sale by auction 21st June 1849
Initial announcement of sale also included a Malt-office of 50 coombs steep, Corn Granaries, Warehouses, Coal Stores, Wharf, a Compact Brewery with Stables, Chaise-house, Cart Lodges, Boat-house, Gardens Pleasure Ground, and Meadow Land.


`A well established INN, called the RAILWAY ARMS, admirably situated next to Brandon Station, with excellent stabling for twelve horses, Gig House and Cart Lodge, covered Nine-pin Ground, part of the walled-in Garden and Pleasure Grounds adjoining the Inn (with valuable Timber and Trees growing thereon), and containing , with the site of the premises, 1A 3R 33P....'
` The Pleasure Grounds face Brandon Station and are very advantageously situated for erection of a Refreshment Room since there is no such facility on any station between Cambridge and Yarmouth.'
Apportioned annual rent due from Mr Charles Hatch to Mr Drane at Michaelmas 1850, will be £50.
Found in directories as the RAILWAY HOTEL 1858 - 1888.
and as the GREAT EASTERN RAILWAY HOTEL from 1892
Corn Market held here 1892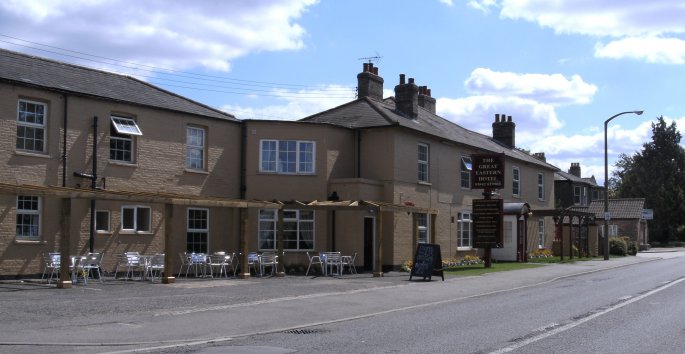 August 2011 image by Ken Griffin