Licensees :
-
THOMAS HOWARTH
1830
WILLIAM SEELEY
(died Q3 1839 ?)
1836
GEORGE WATERING
1839
JOHN STEPHEN TURNER
(Committed suicide 25th July 1845 - age 55)
1841 - 1845
Mrs CHARLOTTE TURNER
age 40 in 1841
(died Q1 1849)
1845 - 1846
Mrs. CARTER
1848
BENJAMIN BUCKHAM
age 53 in 1851
1850 - 1851
CHARLES AMES
(died Q3 1854 ?)
1853 - 1854
CHARLES DOVER
& drover
age 64 in 1881
(died Q3 1890 ?)
1858 - 1881
THOMAS MAWRAN
also as Mauran & Mouran
age 42 in 1891
21.05.1881
Convicted 23.05.1891 of allowing consumption out of hours - Fine 10/- with NO costs or 3 days detention.
WILLIAM CRUIKSHANK
10.10.1891
FREDERICK MARTIN
24.06.1894
EDWARD CHARLES BALLS
age 28 in 1901
09.05.1899
FREDERICK ALFRED WILLIAM COMAN
07.05.1901
ARTHUR BOOTY
30.07.1901
ERNEST BULLARD
04.02.1902
JOHN JARRETT
(Reported as James Jarrett 25.10.1902)
23.10.1902
FRED NORTON HILL
11.06.1912
CHARLES HARRIS
19.08.1913
MARGARET HARRIS
05.04.1924
ARTHUR CLARKE
21.11.1933
FRANK GOLDSON
19.07.1960
- 1965 +
-
IAN WARREN
& BEVERLEY
by 1989 - 2005+

Thanks to Ron Sheldon for update 02.01.2003

The inquest into the suicide of Stephen Turner was held at the house on Friday 25th July 1845. That day, the deceased had been found hanging from a beam in the stable some two hours after he had apparently placed a nine-pin on top of a measure in order to reach the beam.
In a low state of mind regarding family concerns, a verdict of Temporary Insanity was reached.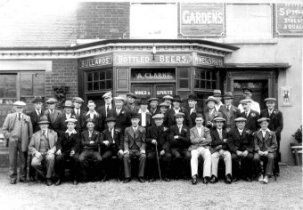 During the period of Arthur Clarke - c1935
(The chap holding the stick is Ernest Clarke, father of Arthur.
He had died by 1939)

As the NEW ANGEL at St. Clements in the Field 1830.
As the ANGEL PLEASURE GARDENS in late 1800's.

Music, singing and dancing licence granted 22nd August 1891.
The gardens were 50 yards square and held a stage 38 feet by 22 feet (?) upon which, in fine weather, performances took place. In bad weather there was a large room with a small stage at one end. A greater part of the value of the premises would be lost if the licence was not granted.
With no objections, the licence applied for was granted.

ANGEL GARDENS 1891 & 1937
The ENTERTAINER 1984 - 1987
The ANGEL GARDENS from October 1987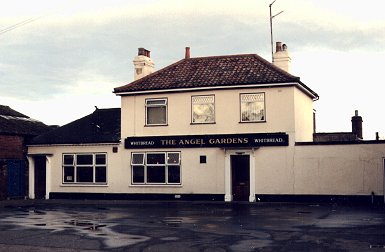 November 1987 image by Barry Wilkinson.


On Tuesday 5th December 1848, Samuel Davey was charged by landlady Mrs Carter of being disorderly and of breaking a window in the Angel.
Davey said that he was a funny singer and had been invited by Mrs Carter to attend the Free and Easy which was held the previous night. Although he gained no money, he got plenty of beer. He was used roughly and his hat had been damaged.
He was fined a total of 8s 6d which included damages and costs, or 21 days imprisonment. He went to prison.