Licensees :
-
EDMUND HUNTING
1789
ROBERT SPRINGALL
1794
-
RICHARD WEBB
1830
GEORGE KEW
& cabinet maker
1836
GEORGE PAGE
1839
EDMUND HOLMES
(as Edmond Holmes in 1841 census - age 25)
1841 - 1846
JAMES COLDHAM
1850
JAMES SHORTEN (26)
*1851
CHARLES AINSLIE
1854
JONATHAN POWLEY
1856
Demolished by September 1858
-
SAMUEL HUGGINS
age 58 in 1871
by September 1865
AMY ANN HUGGINS
See below
10.12.1887
MATTHEW WILLIAM SMITH
age 40 in 1891
by 1890
CHARLES COOPER
04.06.1904
WILLIAM BREWSTER REYNOLDS
20.10.1906
LOUIS REGINALD CANHAM
11.11.1946
RICHARD ROBERT BREEZE
02.08.1946
STANLEY FRANK WILLIMENT
1960
JOY & BOB LAWS
c1965 - 1973+
-
COLIN BLADES
1992
HERBIE & JANET BLADES
managers
1992 - 1994
-
DARREN REILLY
October 2011
-
| | | |
| --- | --- | --- |
| | On Saturday 21st August 1888, at the North Walsham County Court, landlady Amy Huggins, executrix of Samuel Huggins, deceased, was ordered to pay Thomas Nockolds the sum of £2 15s, the balance due on the sale of pigs. Immediate payment was made. | |
| | | |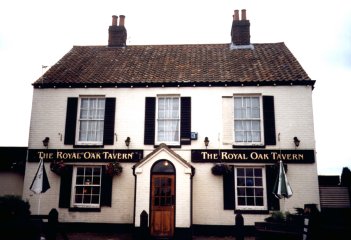 28.07.1996


Purchased by Thomas Cobbold in 1826, together with 2 cottages.

Steward & Patteson records state that the house was leased by Steward, Patteson, Finch & Co at sometime during the period 1837 to 1851.

The Royal Oak (Benefit) Club was run by trustees William Fox and Thomas Rose in 1845. One of their members, Thomas Larkman, had been paying 18d a month and having sprained his ankle, had been in receipt of a club allowance. He was however `thrown out' of the club as soon as he could walk a few miles and since there was nothing in the rules to authorise such treatment, the Magistrates ordered that he should be re-instated a member of the club.

White describes in 1854 that `Benefit Societies are held at the Magpie and Royal Oak Inns, where there are also pleasure and tea gardens, laid out with great taste, and much resorted to by the inhabitants of Norwich, during the Summer months'.

Offered To Let 3rd November and again during December 1855 with Immediate possession.
Apply at the Counting-house of Messrs. Steward, Patteson & Co.

To Be Let - March 1856 with Immediate Possession.
In full trade, with good Stabling and Pleasure Gardens attached.

Spirit licence granted Saturday 2nd September 1865.

On Tuesday 22nd June 1858, the Balks, Joists, Boards, Principals, Floors, Tiles, Windows, Doors, &c. lately forming the Royal Oak were to be Sold by Auction. About 6 Acres of Hardland Grass, adjoining the Royal Oak to be sold immediately after the above. This to be Cut and carried Away by the purchaser.

In September 1858 it was said that the house had been pulled down, the location of the site being Catton.

For Sale by Auction Thursday 8th December 1864.
The Newly Built House fronting the North Walsham Turnpike.
Let to Messrs. Steward & Patteson at the annual rent of £30.
The site covering two Acres and including a covered Skittle Ground, stable, Garden and a piece of Arable Land.

Location given as Sprowston in 1864 and later years.

Spirit licence awarded 2nd September 1865.

Prior 1965 there were cart sheds at the front of the house
(on Northern end) extending to the road.


Plans to convert in to a veterinary surgery published 02.12.2003.

Refurbished October 2011 and re-opened by November with cask ales making a return after an absence of at least 7 years.

CLOSED 30th August 2012.

Plans announced December 2012 to convert into commercial premises.