Licensees :
-
Mrs LYDIA PETCHEY
(died Q1 1854 ?)
1845 - 1846
WILLIAM HOTCHING (Hotchin)
age 34 in 1851
1851 - 1856
THOMAS TAYLOR
age 56 in 1861
died Q2 1889, age 88
1858 - 1888
30th September 1872 - Fine of 20s and 14s costs for having house illegally open at 5:30 a.m. on 2nd September.
ALFRED HARDY
age 43 in 1891
1890 - 1901
DIXON STANDALOFT
(age 34 in 1901 - carpenter)
Moved to Snettisham Road 1907
1904 - 1907
ARTHUR WALKER
age 47 in 1911
Died Q3 1915
1907 - 1915
Mrs JANE A WALKER
1916
FREDERICK ANTHONY
1922
WILLIAM THOMAS OWEN
(Died Q3 1944)
1924 - 1937
Mrs JANE POPPERWELL
1940 - 1945
ALBERT HURRELL
by 02.1950
ERNEST BRIDGES
28.11.1951
WILFRED ERNEST WATSON
04.07.1955
WILLIAM GEORGE LINK
15.06.1964
GEORGE SIDNEY HARDY
(Died April 1994 - age 76)
07.12.1964
DONALD VICTOR ISBELL
02.04.1968
ERNEST ARTHUR THORLEY
(Died October 2001 - age 80)
31.03.1970
ALAN & MOLLY BIRT
1970 - 1976
ERIC & ELIZABETH .........
by 12.1977
PETE & MADGE ........
by 12.1987
-
SHEILA ROYTHORNE
2007 - 2020
TOMMY & CHRISTINE HAUGHEY
01.10.2020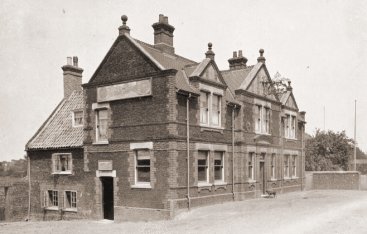 c1920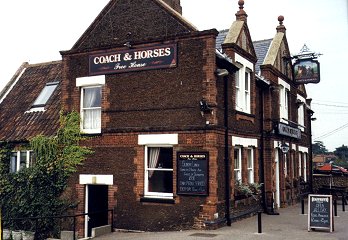 August 1999


Mr. William Hotching, was a farmer at Ingoldisthorpe to Michaelmas 1846 and released from prison (gaol) during the week ending Saturday 1st April 1848. He had been detained as an insolvent. His son, also William (?) was living at the Coach & Horses in 1846.


For sale by auction 8th July 1858 with Thomas Taylor in occupation. Including large well-planted Garden, newly-erected Stable and Coach-house. Sale at The Globe, Kings Lynn.

Advertised April 1922 - "Under new Management."

Occupant in April 1924 given as Thomas Owen.

CAMRA Norfolk pub of the year 2014
& in 2015 Good Beer Guide.