Licensees :
-
WILLIAM WHITTOME
Age 65 in 1841
Died 1847
(& Judith nee WARD - Died 1844)
by 1796 - 1847
-
GEORGE DORDERY
Age 32 in 1851
*1851 - *1856
SAMUEL SHINGLES
& shopkeeper
1857 - 1890
WILLIAM WALKER
*1891 - *1892
JAMES ALFRED ROWELL
1896 - 1900
HERBERT HARBOARD CANNELL
1903
JOHN MILLER
Age 42 in 1911
by 1904
HARRY MILLER
29.09.1930
GEORGE THOMAS ARMSBY
03.01.1938
HARRY HOWLETT
15.12.1941
-
Thanks to Pat Portsmouth for the update 09.09.2005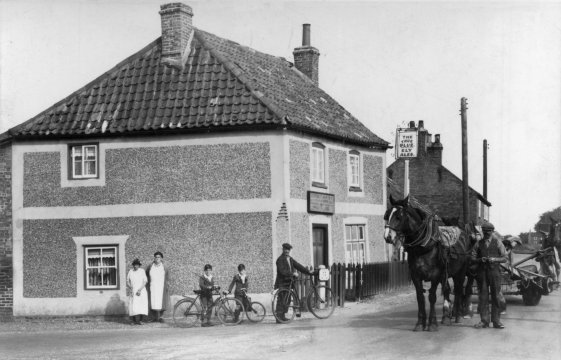 c1938 - image thanks to Alan Wilde


Address as Long Drove in 1851 census.

Lot number 4 in the sale of Freehold Properties to be held at the BELL, Hilgay on Friday 24th July 1857.
The seven lots were the remaining properties of Robert Martin Layton Esq., who had disposed of his Brewery.
Described as a Beerhouse, noted for trade, adjoining the road leading to the Hilgay Station; with two convenient Cottages, a Stable and small Yard.
The True Blue being in occupation of Samuel Shingles.
(George Shingles in one of the cottages and John Daisley in the other.)

Offered To Let September1900 with possession from Michaelmas - Apply Mills, brewer, Downham Market.