Licensees :
-
ELIZABETH HARRIS (Bell)
1789
JOHN SHORT (Bell)
1790
JOHN SHORT (Buck)
1792 - 1794
THOMAS SHORT
&wheelwright
(Insolvent as dated 8th April 1829)
to 1829
-
JAMES YOUNG
age 57 in 1851
& farming 100 acres
1835 - 1870
WILLIAM JOHN GRAND
& farming 66 acres 1871
& farming 67 acres 1881
(Died at the Buck Inn 17.02.1921 - age 90)
1871 - 1921
EDMOND B THORPE
1922
ROBERT GEORGE ALDIS
1925 - 1937
STANLEY DACK
by 1944
OLIVER HENRY FISHER (Harry)
c1964 - 1966
PETER FREDERICK MELLOR
11.10.1966 -
June 1987
-
LINDA JOHNSON
& RAY BADHAM
November 2010
SHELLEY COBB &
CHARLOTTE LEVERETT
November 2012
HENRY WATT
June 2015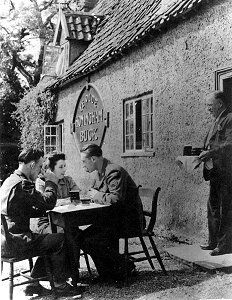 1944 - Stanley Dack bringing ale
to two USAF personnel and friend.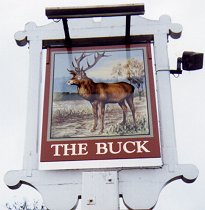 1996
Previously called the
BELL

.
Said to have been renamed after John Buck, a blacksmith who, in October 1792 was apprehended with a tub of illicit gin at his house. Apparently Buck was a Notorious Smuggler and is mentioned in Parson Woodforde's diaries.

Peter Mellor advises that the rent in 1966 was £50.00 per annum.
Following extensive renovations by the brewery in 1968
it rose to £200.00 per annum.

Later Rents....

1972 £320
1975 £1116
1981 £2004
1984 £3700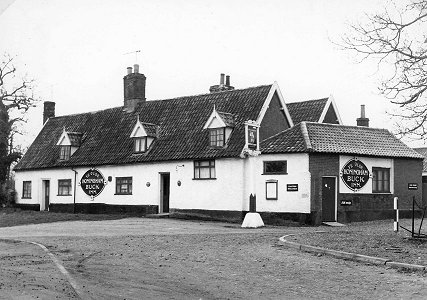 The Buck - 1966
Images kindly provided by Peter Mellor

Closed September 2014 - re-opened with new owners Lacons, Saturday 6th June 2015.