Licensees :
-
ALBERT WADE
(Butcher only 1865)
by 01. 1866 - *1868
Summoned Tuesday 30th January 1866 for on 17th January, buying three pigs from Hopton, Suffolk, and taking them to Garboldisham, contrary to order in council and notice issued by the Justices. Fine of £1.
JONATHAN BANHAM
& coal merchant
age 49 in 1871
Died second quarter of 1889
31.08.1869 - 1888
Fine and costs to a total of £5 13s 6d on Tuesday 19th July 1881 for harbouring police constable Josiah Cook, who had gone absent from duty on 20th June. The constable was found the next day, in an upstairs cupboard, concealed amongst some straw.
Mrs MARIA BANHAM
1890
GABRIEL HUNT
age 32 in 1891
1891 - 1900
JOSEPH FRENCH
age 51 in 1901
1901 - 1904
BERTIE JAMES FROST
See opposite
1908 to 1911
CHARLES MOORE
1912
Mrs ETHEL JERMY
1916 - 1922
HERBERT FOUNTAIN
& wife Florence
1922 - 1925
EDWARD ROWLAND PRETTY
1925
to closure 1927 ?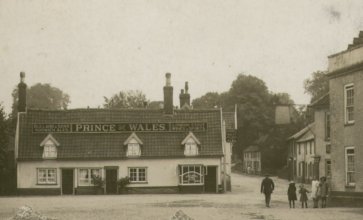 c1925 - with the sign of the George Inn to the right.
On Monday 6th March 1911, Bertie Frost was granted the licence of the Crown Hotel. Messrs. Bullards had objected to the transfer since they had issued him with a notice to quit the Prince of Wales, but his notice would not expire until April. Mr. Frost said he would leave his mother-in-law, Mrs. French in charge of the Prince of Wales whilst he held both licenses and would see that both houses were properly conducted. Messrs. Lacon supported the application, which was granted.

Referred for Compensation 24.12.1927