Licensees :
-
ROBERT NEECH
1794
-
JOHN DAVY
1809
WILLIAM FREEMAN
1836 - 1845
WILLIAM TIBBENHAM
age 49 in 1851
Died 10th July 1866 age 64
1846 - 1866
Mrs CHARLOTTE TIBBENHAM

1866 - 1869
Mrs MARY ANN TIBBENHAM
age 69 in 1871
1871 - 1883
SAMUEL JEFFRIES
1888 - 1900
ELIJAH JOSH
1903 - 1904
WILLIAM DACK
from April 1906
Wednesday 24th October 1906 - Fine of 30s and 4s costs for serving a drunk person on 11th October. Having received notice to quit from the brewery, Mr. Dack thought he had been punished enough.
MOSES SAMUEL REDGRAVE
10.04.1907 - 1916
Mrs AGNES RINGER
1922 - 1929
ALFRED THOMAS HARDESTY
1933
AUSTIN GARRAD
1937
-
..... GOODBREY
c1962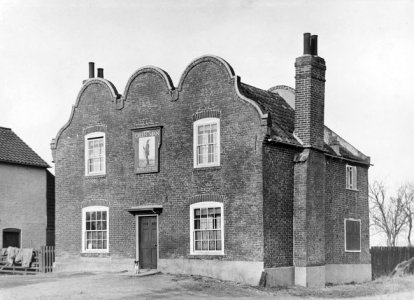 Image shown with permission of
Norfolk County Council Library and Information Service


Part of the Estate of Mr. Thomas Allday Kerrison, For Sal by Auction, 9th September 1809.
With Stable, Brew-house, Buildings and 1A 0R 22P of Pasture Land. In occupation of John Davy.
Appears on Bryant's 1826 map.
Lot No. 35 in the sale of the Geldeston Brewery Wednesday 1st April 1858.
Purchased by Messrs. Youngs for £520.

All the Household Furniture and Effects - For Sale Tuesday 9th October 1900, for Mr. Samuel Jeffries, who was retiring from business.