Licensees :
JOHN MASSINGHAM
died 1639
-
Ө
MARK MASSINGHAM
1781 - 1785
JOHN CARRINGTON
1789
JAMES MASSINGHAM
& baker
Age 52 in 1841
(Agricultural Labourer 1851)
1790 - 1847
THOMAS BIRD
age 38 in 1851
& gardener
by 1851
EDMUND WILLIAM LOADES
06.02.1886
MARY LOADES
03.11.1919
GEORGE HENRY ROGERS
08.02.1946
FREDRICA S ROGERS
31.03.1950
MAGGIE LOADS & ENID GRAVELLING
(Enid Gravelling died 1956)
to 1956
MAGGIE LOADES
to 1972
VICTOR & MYRTLE NEWMAN
1972 to 1996
PAT & BRIDGET NEWMAN
(Patrick Newman died 2010)
Bridget Newman announced retirement August 2013
1996 - 16.08.2013
BRIDGET NEWMAN
2014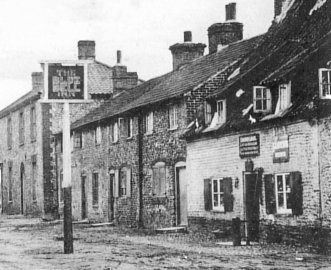 Opened in early 1600's by John Massingham.
(Died 1639)

Mary Loades was the wife of Edmund Loades, son of Edmund William Loades.

Steward & Patteson business report, prepared June 1969 for Watney Mann recommended immediate closure.

House closed mid 1997 for major refurbishment and extension.
£100,000 said to have been spent by time of reopening Saturday 29th November 1997

Geoffrey Drew advises :-

I can remember going to the Bluebell when I was a lad, (1940s), they did not have a bar then - people just used to come into their living room and the barrels were on stands at the side of the room.

Edmund Loades b 1836 married Ellen Melton on 14 September 1856.

Their son Edmund William married Mary Curtis 16 June 1886.

'Maggie' was Fredrica Loades until she married Jack Rogers.



Sold by Punch Taverns and expected to re-open as a freehouse (As reported 17th August 2013)