Licensees :
-
JOHN MORLEY (35 in 1851)
1850 - 1851
BENJAMIN DUFFIELD
age 58 in 1861
1854 - 1864
WILLIAM RIX
& coal merchant
age 34 in 1871
1865 - 1885
WILLIAM WARREN
age 47 in 1891
by 1888
EDWARD CHARLES NEWMAN
Age 51 in 1911
15.10.1909
MARY ANN NEWMAN
14.04.1939
FLORENCE KATE NEWMAN
13.10.1944
ALFRED JAMES KNOCK
and wife Mary Louisa
19.11.1954
to closure
REGINALD NORMAN FEEK
Brewery representative
23.08.1957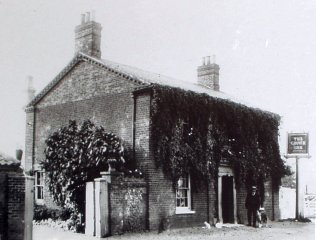 As RAILWAY TAVERN 1871
William Warren also operated as a coal merchant and charged £1/7/- for a ton of coal delivered 23rd May 1900 to a local house.
Sited near to the railway station, the house depended a great deal on railway travellers, so a cut of services to one train per day, in each direction, contributed towards its demise.
39 barrels of beer sold in the final year of trading.
The licence was held by S&P until 14.02.1964 when renewal was not applied for.

By 2004 the house was operating as a retirement home and Alfred Knock returned to the house as a resident.