c1970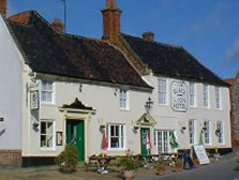 2001
Said to be named after the visit in 1361 of Queen Philippa of Hainault, whose arms included a black lion, wife of Henry III.
Mentioned in the Ipswich Journal of 4th February 1749.
~
A coach, known as the MACHINE, arrived at the Inn from the Green Dragon Inn, Bishopsgate, London, every Tuesday evening, as advertised March 1765. Inside passengers paying One Guinea. Outside passengers and Children on the Lap to pay Half-price.
~
Sold 25th September 1778, then part of the estate of the bankrupt William Sparkes. Sale included Barns, Stables, Granaries, Yards, Gardens, Orchards, Bowling Green and Butchers Stalls belonging to the inn, together with 7 acres of land.
"All those indebted to the Estate of William Sparkes to meet at the BLACK LION on Friday 11th June 1779 to receive such Debts as shall then remain unpaid."
~
Offered to let 2nd June 1781 and to be entered into `Michaelmas next, or sooner if required........ So well calculated for Road Business, and publick Amusements, viz. large Assemblies in the Winter Season, and in Summer a commodious Bowling Green, to which there are about Fifty Subscribers, and a Billiard Table, etc. together with about 8 acres of Meadow and Pasture Ground.'
~
The Norfolk Chronicle of 10th November 1781 reported that
`Saturday last died at Walsingham, much respected, Mr Robert Lambert, who many years kept the Black Lion Inn, in that town.'
~
In an announcement dated 24th September 1787, Samuel Howlett informed the Nobility, Gentry and the Public that he had taken the Inn and would enter on 10th October 1787.
~
For Sale by Auction August 1806 in occupation of Mr. West, let on a lease to expire 25th December 1808.
Including a long Brewhouse, good Garden, Bowling Green and 3 Acres of excellent Meadow - All Freehold, except the Garden and Bowling Green.
The Upper Bowling Green, also in the occupation of Mr. West was also for sale - Copyhold.
Mr. West's lease expiring on 6th January 1807.
~
Offered for sale by auction 7th June 1813.
Consisting of a large assembly room, card room, and three parlours, bar, two kitchens, with necessary offices, six double and single bed-rooms with
atticks
, good vaulted cellars, two low rooms used as a cottage adjoining, a large room in the yard used as a club-room, stables divided off in twenty five stalls, with granary and hay chamber over the same, besides open stables and coach house; also a large barn occasionally used as a Theatre. Principally brick and tiled, in good repair. Also a bowling-green and garden attached.
~
In 1830 the coach the Nelson called every Monday & Wednesday at 7:30 am and on Saturdays at 6:30 am, on way from Cromer to Norwich.
Advertised as Family and Commercial Hotel
as well as Excise Office 1830.
Bowling Green, Pleasure Gardens and Posting House 1839.
The Opening Dinner for Mr. J. Bayfield took place on Friday, 4th June 1841, at four o'clock.
For Sale by Auction Friday 18th August 1848, a First Rate Commercial Inn, established for a Century, with possession at Michaelmas.
The sale of the Household Furniture and effects of Mr. John Bayfield, (Who was leaving the Inn), planned for 3rd and 4th October was unavoidably postponed to the 10th and 11th of October. 1848.
Henry Gamble moved to the premises 10th October 1848 having previously been at the
KINGS HEAD.
Harriet Gamble, landlady, sued ostler William Feek for £12 11s 9d on Thursday 22nd November 1860. Feek had run the Tap and the sum was outstanding for beer supplied from May to September. In his absence, Feek was ordered to pay £5 forthwith and the remainder at 10s a month.
Part of the Household Furniture and other Effects of Mr. G. Gamble were to be Sold by Auction Friday, 2nd October 1863 since he was leaving the Hotel.
The Opening Dinner of Mr. James Barber was held on Wednesday 24th June 1874. The dinner was of the most
recherché
description.
2001 - 2 bars open to the public, one with an impressive fireplace.
Refurbishment completed for re-opening July 2014.