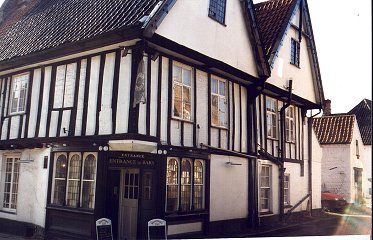 February 1998
Reputed to date back to 1300's, a former pilgrims hostel possibly known as the
MOON & STAR
and later the
SARACEN'S HEAD
.
Present building dates from the mid 16th century and the deep cellar possibly part of the earlier
SARACENS' HEAD
.
For Sale by Auction August 1869.
a commodious and well-established House.
Given as holding a 6 day licence in 1903.
At the February 1904 Licensing Sessions, the house was described as a beerhouse and it was reported that the conduct of the licensee had been criticised in November 1903 and since then other cases had arisen and the house was considered to be unsatisfactorily conducted. The licence was however renewed.
Considered for closure at the licensing sessions 7th March 1910. `The position being most inconvenient, both in front and at the back'
Licence of the
QUEEN ADELAIDE
, Wells removed to these premises 11.05.1951. (Upgraded from 6 day licence to full 7 day licence?)
Offered for sale as a `Vacant Pub' October 2009