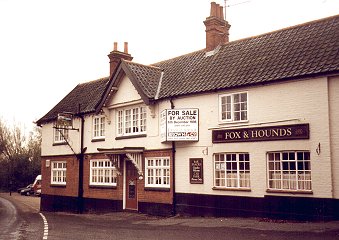 November 1996.

The Hampshire Telegraph reported 19th November 1804, that a potato of one foot in length, a circumference of 11¼ inches and a weight of 3lbs was taken up on the Loddon premises of Mr. Rudrum, the Fox & Hounds.


Included in Loddon & Clavering Register taken 21st September 1789.
Offering in 1916 "Motor cars for hire; motor garage; petrol & oil stocked; good stabling accommodation".

No change recommended at the First Joint Committee Meeting of Bullards and S&P 29.05.1962.
Sales reported as 307 barrels of beer.


Offered for sale November 1996
(For housing development)