Licensees :
-
ELIZABETH FENN
1723
-
....... BEART
1764
Mr TRICKER
died circa Dec 1781
THOMAS BRETT
(Mrs Brett died Thursday 2nd October 1794 )
by 02.1782 to 1794
JOHN BRETT
1794
-
JAMES LAWRENCE
Died June 1828 - age 50
by 1817 - 1828
THOMAS DAVIS PUNCHER
1830 - 1841
CHARLES CAPON
*1843 - 1845
GILBERT HUNT
(posting & Inland Revenue office)
1846 - 1850
WILLIAM MOORE
age 48 in 1851
& licensed to let horses & carriages
1851 - 1856
JOHN CONSTABLE
Died June 1874 - age 60
See opposite **
1858 - 1874
RICHARD RUSHMORE
1875 - 1878
HORACE BLOOMFIELD GREEN
& agricultural implement agent
& insurance agent
1879 - 1883
CHARLES IFE (?)
According to White
1883
SAMUEL JOSEPH MULLENGER
1888
HARRY SAMUEL MULLENGER
1890 - 1892
HERBERT WILLIAM GOODWINS
1896
GEORGE GIBSON
1900
ARTHUR GIBSON
1904 - 1908
STEPHEN FRANK HODGES
1912 - 1915
FRANK WYNN
1916 - 1922
WILLIAM JABEZ KEMP
1925 - 1937
ERNEST WEBB
1937 - 1963
Mr & Mrs L. TURNER
1967
-
ROY HART
1994
-
ANDREW FREELAND &
JUSTIN FENWICK
02.2012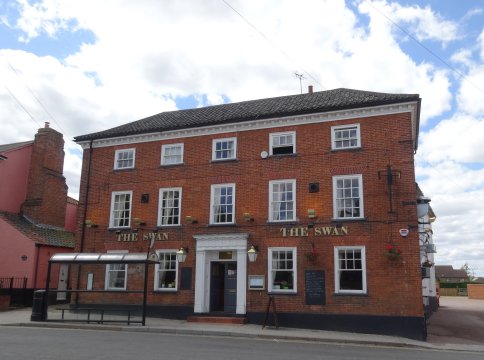 21st July 2015

17 December 1764 To be SOLD by AUCTION
At the BLUE BELL on HOG HILL, NORWICH on Friday 17th of December next An ancient and well-accustomed PUBLICK-HOUSE or INN, known by the Sign of the SWAN , at LODDEN in the County of Norfolk, with a Brewhouse, and other convenient Outhouses, and two Pieces of Land containing about five Acres, contagious to the said Premises. The House and Buildings Freehold, the Land Copyhold, in the Occupation of -------Beart, at the yearly Rent of Twenty-six Pounds.

~

Advertised To Let 12th December 1781 with immediate possession. Including Five Acres of Pasture Land, Excellent Bowling Green and Garden. Stabling for 30 horses, Brew-house and other convenient Offices.

~

The Norfolk Chronicle of 22nd February 1782 advised...
Thomas BRETT has taken on the SWAN INN, late in the Use of Mr TRICKER, deceased, and fitted the same up with all the Necessities suitable for the genteel Entertainment of the Gentlemen of the Neighbourhood; Gentlemen Travellers, and all others who will please to make Trial thereof, may depend on his utmost Endeavours to oblige them with good Wines, Liquors of all Kinds, neat Bedding, and good Stables, etc, and flatters himself, from the Testament they will meet with, to be honoured with their future Favours.

~
Included in Loddon & Clavering Register taken 21st September 1789.

~

For Sale by Auction Wednesday 22nd August 1827.
The INN with Coach House, stables, Bowling Green and large Room thereon, Yards, Garden and Land thereto, in occupation of proprietor, James Lawrence.


Mr Lawrence died in June 1828 and was buried in Loddon on 28th June 1828, aged 50.
His will was proved 20th December 1828 his estate, including the SWAN INN was left to his wife Rose. His Effects were sworn as under £600.
Rose Lawrence died in 1832, aged 52.

~

The Opening Dinner of Mr. Thomas Puncher took place on Thursday 27th January 1831.

~

For Sale by Auction 21st July 1845.
Property described as:-
On Ground Floor, an excellent Bar, Commercial-room, Parlour, Porter-room, Tap-room, Kitchen, Store-room and Larder.
On the First Floor, a spacious Dining-room, comfortable Sitting-room and two Sleeping-rooms.
On the Upper Story, four excellent Bed-rooms, Servants'-room, Mangling-room, small Nursery and two Attics.
In the Basement, Wine, Spirit and Beer Cellars.
In the Yard, excellent Stabling for 40 Horses, with Hay and Straw Lofts over, Coach-house, Harness-room, Packing-room, Wash-house, Coal-house and a small Barn, &c.
Also a Garden well planted with excellent Fruit Trees.
Also a well-frequented Bowling Green, in which is a large Dining-room with Bar adjoining, brick and tile Arbour, Bowl-house, &c.
And Three Pieces of Arable and Pasture Land containing, with the site of the Premises, 5A. 1R. 38P.
All in the occupation of Mr. Charles Capon, who will quit the same at Michaelmas next.
The Magistrates for Loddon and Clavering Hundreds, the Collector of Excise and the Commissioner of Assessed Taxes all hold their Sittings at the house.

~

Mr.G. Hunt announced 17th January 1846 that his Opening Dinner would be held on Monday 26th January. He thanked his Friends and the Public in general for the support they had already given him since he took the Inn.

~
For Sale by Auction Wednesday 29th June 1853.
Then in occupation of Mr. Emerson. (Owner, not licensee?)
Possession from Michaelmas 1853.
~

To Let 30th September 1854 with possession at Michaelmas.
With Bowling Green, Orchard and Five Acres of good Arable Land adjoining.
~
** In a notification dated 17th June 1874 all persons having a claim against the Estate of the late John Constable were to make their claim to Francis Blunderfield, the younger, of Raveningham or to Charlotte Constable, spinster of Loddon, his Executers. All persons indebted to the said Estate were required to settle their account with the Executors.

~

The Furniture and Contents of the Inn were offered For Sale by Auction Tuesday 21st June 1878 since Mr. Richard Rushmore was leaving.
Two posting Horses, Carriages including a superior new Waggonette, Brougham, Shooting Cart, Dog Cart, Harness, large Booth, &c. were included.

~
Described as a
COMMERCIAL HOTEL & POSTING HOUSE
to at least 1904.

Advertising "Good accommodation; bowling green; stabling; headquarters of the CTC; luncheons, dinners & teas provided; parties catered for" in 1916

Many thanks to Janelle Penney for the newspaper transcription
taken with permission, from © film provided by the
British Library Newspaper Library
Thanks also to Robert Campbell.