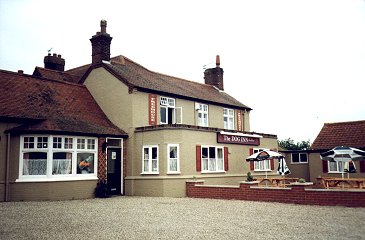 May 1997

Mary Thaxter was buried in 1689 she was said to have lived
at the `Dog House '
Lot No. 6 in a Sale by Auction Saturday 30th January 1819.
The DOG, formerly the SHIP.
Of the 8 Lots, seven were public houses about the county.

For sale 9th September 1820, late in the occupation of John Harmer. Consisting of a kitchen, parlour, pantry, two chambers, store-house, and cellar, with yards, and piece of garden, and osier ground, containing half an acre and upwards, together with half an acre of arable land, and near three acres and a half of meadow and marsh ground - immediate possession.

Appears on Bryant's 1826 map.

On Thursday 20th May 1841, William Broughton, a deserter from the 96th Regiment, was committed for having stolen a gold brooch, the property of the daughter of the landlord, Mr. Fulcher, and a pair of stockings, the property of lodger William Lock. The robbery had taken place on Thursday 7th May and on Tuesday 12th May, Broughton was apprehended in Norwich.
1938 advertisement :-
`Ah! Here's the house the Yachtsmen cried,
and soon the boys were all inside'.
The sign in 1968 was based upon a cartoon character.
(Does anybody have a photograph of that sign?)

See page 39 of The Norfolk Broads in Old Postcards, first published 1990, by Basil Gowen.
A freehouse from 1989.