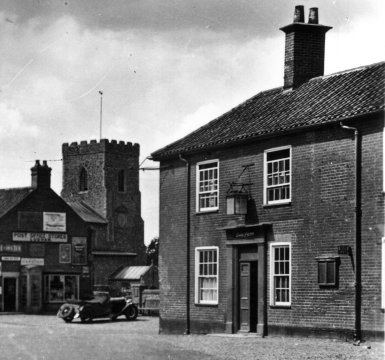 c1930


For sale by Auction Friday 28th December 1810, unless previously disposed of by Private Contract.
Complete with good kitchen, bar, two parlours, large dining room and seven sleeping rooms. Stabling for twenty horses, good brick barn, excellent bowling green, kitchen garden with pightle adjoining, in high cultivation, about half an acre.
~

Offered for sale by private contract May 1831.
`Very extensive premises in good repair, comprising seven sleeping-rooms, a very spacious dining-room, two parlours, porter room, kitchen, bar, and excellent cellars, together with a good sized shop, capital brick and stone stables, coach house, barn, and other requisite outbuildings, a bowling green, and two large gardens, well planted with fruit trees &c., containing together two acres.... now under lease to Messrs. Lacon & Co for a term which will expire Michaelmas 1834.
Apply to Mr. Williams, the proprietor, or to Mr. Gilman, solicitor, Little Orford street, Norwich.'

~

Offered For Sale by Auction Saturday 27th August 1831.
Messrs. Lacon and Co. were then paying £60 per annum of which £10 was covenanted for yearly repairs.
~
For Sale by Auction Monday, 19th August 1839.
Then in the occupation of Mr. E. Sandell, except for two rooms next the Street, occupied by Mr. Garnham and used as a Shop and Warehouse.
A large Dining Room recently erected near the Bowling Green.

~

Akll the Household Furniture, six Featherbeds, Out-door Effects, &c. of Mr. James Littlewood were to be Sold by Auction, Wednesday4th August 1847.

~

Daniel Chasteney England is described in Whites 1883 directory as `Engineer, Millwright, Iron & Brass Founder and Maker and Inventor of the Patent Turbine for Fen Drainage'.

~

Alterations proposed by Messrs. Youngs, Crawshay & Youngs were approved Tuesday 29th November 1904.