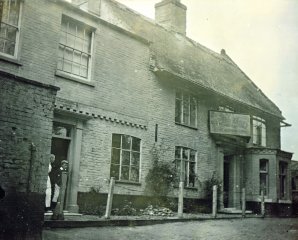 1897 image from the collection of the late Percy Rush.
Shown with permission

The house was a vicarage until 1858.

Recorded as a Refreshment and Commercial Boarding House 1863

On Tuesday 6th September 1864, William Crowe, of Ludham, late Wroxham CASTLE, obtained a magistrates certificate to open a New House in Ludham, to be called the SPREAD EAGLE, hitherto being carried on by Mr. Crowe as a beerhouse with a wine licence.

Offered to for sale or let September 1865 with possession from Michaelmas. In full trade and in occupation of Mr. W. Crowe.

In 1877 Mr. John Clarke is given as a Spirit, Ale & Porter Merchant at STAITHE HOUSE.

Application made Monday 22nd August 1887 for a full 7 day licence. The application was opposed on the grounds that there were already two fully licensed houses within 150 yards.
7 day beer licence granted, but wine and spirit licence refused.

Licence transferred 1899 to DUKE OF EDINBURGH, Bacton.
Premises sold March 1900

Became a Temperance Hotel.