Licensees :
-
JOSHUA MIDDLETON
1794 - October 1812
HENRY COE
c1815
-
GEORGE WITHERS
& cattle dealer
1832 - 1837
ROBERT EMERSON
& bricklayer
*1845 - 1846
ROBERT HOWES (45)
1851
EDWARD PALMER
Age 59 in 1861
1854 - 1861
Mrs SARAH PALMER
1863 - 1865
JAMES EAGLE
& carrier
1868 - 1888
JOHN MASON
1890 - 1892
GEORGE FITZHUGH
*1896 - *1908
GEORGE CHATER
1912 - 1916
HERBERT RICHARD GAZE
1922 to 1944
Fine 02.11.1931 of 2/- plus 6d costs for selling out of hours
HERBERT WILLIAM GAZE
30.10.1944
FRANK SKEET
22.10.1945
to 1969+?
PHIL & PEGGY WARWICK
1972 -1983
ERIC & BETTY HALLS
10.1983
ROGER & JULIE HASSLE
Went to Downham Cock
09.1987 - 06.1986
-
PAUL & SARAH SYKES
2007
-
May 1985, offering :-
Lunches & Evening Meals.
Bar Snacks always available.
S&P Bitter.
Yorkshire Bitter.
Norwich Mild.
Norwich Bitter.
Carlsberg Lager.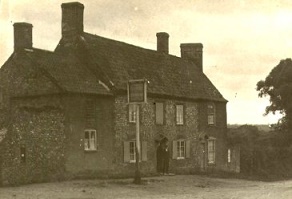 1912

For Sale by Auction Saturday 11th July 1812.
In the occupation of Joshua Middleton with Notice to Quit Michaelmas 1812.

Offered to be sold by Auction Wednesday the 30th day of August 1815 upon the premises at four o'clock in the afternoon...
`ALL that capital and well accustomed Public House called Newton GEORGE situate at Newton within a short distance from Castleacre, comprising two parlours, kitchen, wash-house, and back house, five bedrooms and good attics with excellent cellars, capital brewing office, granary, barn, hay houses, and stabling for fourteen horses with every necessary appendage for the business, and several enclosures of excellent land, containing together twelve acres. The premises are in good repair and possess a flourishing trade and possession may be had immediately.'

~

The creditors of Henry Coe were advised 2nd March 1816 that they would receive 5s 6d in the pound, on their respective debts.
~

Described as commodious and well-accustomed, with complete Brewing office, good cellars, granary, barn, stables, and every requisite outbuilding adjoining, all in good repair, and in great part, new built, together with several Inclosures of excellent Land, altogether about 12 acres, when offered for sale June 1822.

Sale of the premises, scheduled for Wednesday 19th June 1822, was postponed until further notice, as reported in the Norfolk Chronicle of 15th June 1822.

Appears on Bryant's 1826 map.

General Fitzroy's beagles were to meet here Friday 27th December 1827.

For Sale by Auction Wednesday 21st August 1839 with about 14A. 1R. 0P of excellent arable and pasture land.

Lot No. 11 in a sale of properties held Wednesday 17th October 1860. (Sale held at the Ostrich Inn, Castle Acre)
A well-known old-established Inn containing arched Cellars and convenient Rooms, Chambers and Offices.
A total of 8A.1R. 24P. including Pasture and Arable Land.
Also Right of Common over the extensive Waste Lands in the Parish of Newton.

~
All the Live and Dead Farming Stock, Household Furniture and other Effects of Mr. James Eagle were to be Sold by Auction Thursday 30th September 1869, since he was leaving the Inn. <However it seems he changed his plans>

~
Listed as a beerhouse 1912.

~

The house was burgled overnight on about Thursday 13th November 1986. Hundreds of pounds were said to be taken.
Observed to be closed July 2014........