Licensees :
Mr. & Mrs STANLEY ARTHUR BROWN
(Previously at the RAINBOW, King Street)
1959 - 1965
........ HOLMES
c 1968
-
JOHN HILLYER
by 1985 to at least 1992
PAUL BARRETT
Died May 2001 - age 49)
1993 - 1998
TARA BENEFER
April 1998
KEVIN & SARAH REED
Feb 2000
-
DARREN EVANS
June 2010
SHARON ROBINSON
May 2012
John Hillyer was also chairman of the Norwich Licensed Victuallers Association in late 1980's.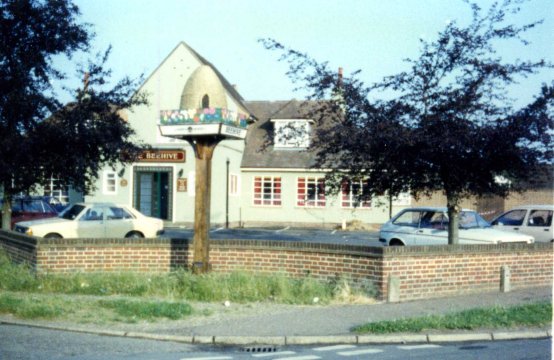 c1984 image by Ken Chapman.

Planned by architects of Youngs, Crawshay & Youngs, but they were taken over by Bullards in 1956 and the YCY Brewery closed in 1958.

This house opened Tuesday 27th October 1959.
Cask Marque `Certificate of Excellence' awarded December 2000 and first ever food menu, said to have proved immensely popular.
New menu announced September 2001 which included the Jumbo Mixed Grill which consisted of a 10oz gammon, 10oz rump, 4oz pork steak, 2 sausages, served with vegetables and chips, jacket or new potatoes. Said to be one of the most popular eateries in the region.
Closed March 2003 for four weeks of refit.
Featuring seven big TV screens for football fans by June 2010.

Closed suddenly Friday 7th March 2012 seemingly putting on hold Greene King plans, announced December 2011, to run the house under a `Meet and Eat' franchise.
Reopened May 2012

Closed 16th January 2014.
Destined to become a Co-op supermarket.