Licensees :
-
FREDERICK GREEN
1890 - 1891
not recorded
1892
WILLIAM ROBERT HUNT
1896
JAMES PARKER MICKLEBURGH
1897 - 1903
22.12.1903 - Fine of £2 and £6 8s 6d costs for adulterating beer. See opposite
CHARLES WILLIAM MABEY
1904 - 1915
WILLIAM ROBERT DYE
1916
ROBERT THOMAS MOORE
1922 - 1929
WILLIAM E. MANN
( William Dann 1937)
1933 - 1937
FREDERICK CHARLES CRANE
1937 - 1939
PETER HARRY HALE
(In Cheltenham by February 1943)
here 1941
-
FRED DRAPER
undated
CHARLES GREENACRE
undated
JOHN DIX
1963 ?
Mr. K. MATTHEWS
here 06.1963 and 06.1964
BOB & PAT VINCENT-BUNN
1964 - 1973
JEAN & ROGER PROWSE
1978 - 1982
JOHN & JACKIE DICKS
c1983 ?
PENNY & MIKE FRAZER-PEARCE
from 11.1983 - 1984+
JOHN & THELMA MINCHIN
undated
MARTIN & SUE DICKERSON
by 11.1988
PETER & JENNY DELL
1993
ED & JUDY WISE
undated
KIM & GILLY RICHES
May 1998
DELL & JAQUELINE MAGINN
by 2002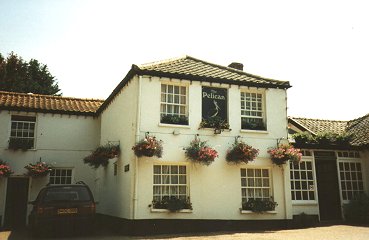 July 1996
Formerly the
WARREN ARMS
to 1889
James Mickleburgh was charged Tuesday 22nd December 1903 of selling diluted beer.
It was explained at the Petty Sessions that only finings could be added to the beer to clarify same. Any dilution, by any other liquid, was prohibited and liable to a fine of £50.
Inland Revenue Officer Robert Edward Eastoe had visited the premises on 15th October and taken samples. One brew sampled was mild ale, the barrel was marked 131 XX and had been one of about 300 barrels in that brew. This barrel had been delivered on 3rd October at was in use at the time of the inspection. The Gyle 131 XX had been brewed by Steward & Patteson to a strength of 1047 and the analysis revealed a strength of 1041.21 for the sample taken. It was estimated that 2
½ gallons of water would have to have been added, allowing for half a gallon that may have been added with finings. All parties from brewer to drayman said there was no way that water could have entered the barrel before delivery.
In his defence, Mickleburgh said that he was not in the house when the samples were taken, his daughter was in sole charge. The bottles used could have been rinsed and contain water, no one saw the exciseman take samples. He used a quart of finings in the summer and three pints in the winter. The beer could have been sampled at the brewery and filled with water there. In any even the amount of water was only the equivalent of two spoonful's in a pint. He had been at the house for seven years and this was the only time there had been a complaint of any kind.
Found Guilty, owing to previous good character, he was fined £2 and costs of £6/8/6.

~

It was heard that shortly after midnight on 29th May1941, Police-constable R. Haines had seen a light under a door and heard voices from within. Knocking on the door and announcing who he was, it was a quarter of an hour before he was admitted. When he left the premises he saw three men outside, but they denied that they had been inside.
On Tuesday 6th May 1941, charged with failing to admit a constable, Peter Harry Hale was said to have been in bed at the time. His daughter Rosemary Hale said that when she heard the doors knocked and rattled, it was very frightening and she ran upstairs for her mother, who wakened Hale.
The 17 year-old said she had thought the invasion had started.
The charge was dismissed.

Exotic chickens & other birds on display in the large gardens to rear in the 1990's

Included in the CAMRA Good Beer Guide 2012
(Published Sept 2011)

CLOSED 2014.