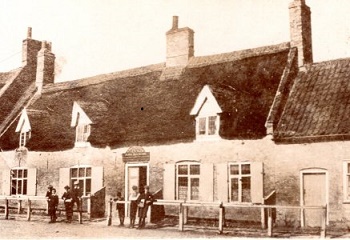 King William c1900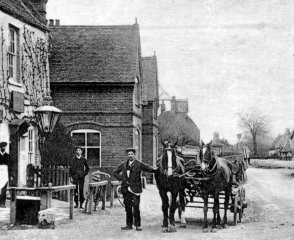 Image posted 1905.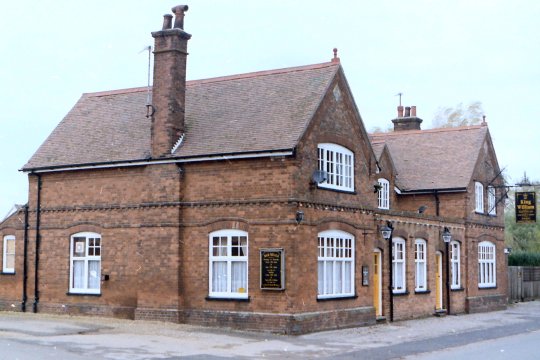 9th November 2000
House described as the
KING WILLIAM III
, (late the
ANGEL)
, when it was declared that a General Court Baron for the Manor of Terrington would be held here Wednesday 25th August 1790.
A General Court Baron held here 26th October 1803.
Sold for £2,260 at Auction Friday 24th August 1827 along with 17 Acres. Let at £104 18s per annum. .
Part of the Estate and Manor of Terrington, to be Sold, Tuesday, 22nd November 1831. The whole Estate advertised again, to be sold Tuesday, 29th May 1832.
(The entire Estate of 2,814 acres was sold for £111,500 - approximately £12,500,000 in 2020.)
The Tithe Commissioners were to meet here Tuesday 20th April 1841. Location described as the house of Mr. Samuel Sizen, the King William.
As the
KING WILLIAM IV
in 1891
Originally a thatched building with 3 dormer windows.
James Sheldrake last licensee at that house?
Demolished c1900 and rebuilt by 1905.

Labourer Edward Mallett was summoned for being disorderly and for refusing to quit the premises. On 23rd May 1912 he had entered a booth in the premises and had started `jangling' with another man on politics. He had refused to cease discussing politics or leave the booth when asked to do so by licensee Langley. When a policeman was called Mallett left the booth.
The Bench dismissed the case.

On 25th May 1912 labourer Arthur Chandler had behaved in a disorderly manner and had sworn at the licensee. Admitting he was wrong for not leaving when asked to do so, he was fined 1s with 4s costs.

Frederick Langley was summoned for allowing his dog out on the night of 25th June 1912. Pleading guilty to the evidence of Police Constable Addison, Langley admitted he was responsible and said that the law was a very good one. He was fined 2s 6d with 10s costs.
Morgans sales for 1960 were :-
294 barrels of beer
69 spirits. (gallons)