Licensees :
-
JOHN WILSON
1729
-
GEORGE DAVY
1791
-
GEORGE CRONSHEY
1822 - 1830
WILLIAM JOHNSON
age 47 in 1851
1836 - 1851
JOHN PLUMPTON
1854
MARY ANN PLUMPTON
1856
Mrs ANN PLUMPTON
1858
HENRY ELLIS
1861
Warned by the magistrates at the Annual Licensing Day, Monday 26th August 1861, to keep an orderly house
WILLIAM MANN
Age 53 in 1871
by 10.1862 - 1883
Mrs SARAH ANN VINCENT
1888 - 1891
GEORGE HENRY REYNOLDS
1892 - 1896
MARIA REYNOLDS
1898
HENRY REYNOLDS
1900
Mrs MARIA REYNOLDS
1904
..... REYNOLDS
1907
CHARLES HENRY PEACOCK
1908 - 1909
WILLIAM FRANCIS
1912
ROBERT TOWNSHEND HOWELL
by 1916
ERNEST JOSIAH MARKILLIE
11.11.1926
MILDRED HARRIET MARKILLIE
08.01.1928
JOHN NUDD TRETT
09.07.1931
NEVILLE HILLYARD BISHOP
28.11.1957
-
ALAIN JICKEL manager
1975
-
STUART & SUE PATERSON
by December 1979
-
ROBIN TWIGGE
by 2005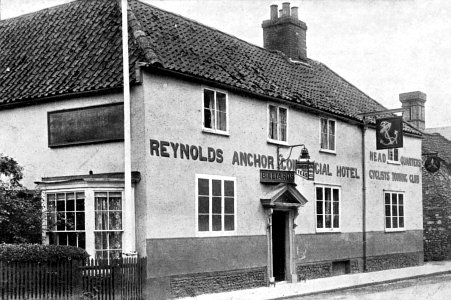 c1907

October 1729 : A Cock Match will be fought on Monday, Tuesday and Wednesday the first, second and third days of December next between the Right Honourable Thomas Lord Lovell of Holkham in the County of Norfolk and John Thurston Esq. of Hoxon in the county of Suffolk, to show thirty one cocks on aside for Five Guineas a Battle and Fifty Guineas the odd Battle at the House of Mr John Wilson at the ANCHOR in Thetford. where all Gentlemen will meet with good Accommodation and a hearty welcome.

~
All the Household Furniture, an elegant Whitechapel and Pony Dog Carts, 2 sets of Silver-mounted Gig Harness, Crimean Marquee, Musical instruments, and other Effects of Mr. Henry Ellis, were to be Sold by Auction, Monday 23rd September 1861, since he was removing to a distance.


Valued 25.07.1889 at £1260 with a further £1850 for the adjoining maltings and coal yard.

One of only 18 Norfolk public houses recommended by the Egon Ronay pub guide of 1969.

Recommended in D. A. Yates 1969 and 1970 guides:-
"AA, RAC and Egon Ronay.
Excellent cuisine under the supervision of Mrs. Jean Bishop.
Electric blankets in all beds"

Quality of the beer, especially the Castle Bitter, was commended when CAMRA representatives visited in late 1979.......
....... consequently appeared in next Good Beer Guide.



Closed August 2006

Licence extinct 16th April 2007.

Demolished December 2012