Licensees :
-
WILLIAM HARPER
postmaster and likely landlord
1664
-
ROBERT BROWNE
went to the ANGEL, Norwich
1740
JAMES JUDD
06.1740
BETTY RADCLIFFE
1775 -
ALEXANDER RADCLIFFE
1791
-
ELIZABETH RADCLIFFE
1822
ROBERT EDWARDS
Age 72 in 1871
by 03.1829 -1886
(WILLIAM SMITH - Bell Tap)
(1850)
J. FIFE
manager
1875
(THOMAS SHELFORD BIDWELL)
1888
BENJAMIN DUFFIELD
manager
1890
(T S BIDWELL & SUTTON)
1890 - 1900 +
BIDWELL & Company
1908 - 1912
ERNEST JESSUP
1916
KATIE JESSOP
by 1921
GEORGE SAMUEL PEELING
05.02.1925
KENNETH CAMPBELL McCALLUM
15.07.1926
THOMAS HAMILTON DENNY
11.04.1935
GERALD GLANDFIELD BOYD
22.07.1954
DAVID HALLIBURTON HADLEY
22.10.1964
-
ALAN & SUE JUDD managers
by 2004
BRIAN & MAGGIE BLAND
by 2008
STUART EVANS
2009 - 2010
CRAIG LAWRENCE
2010
JASON CHAPPELL
Autumn 2010
-

Update Sept 2011 thanks to Allison Cameron-Dicker, Duty Manager and Reception since August 2005

Licensees added thanks to the researches of David Osborne. See link opposite.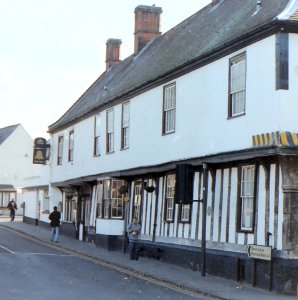 1997

Original building dates from c1490.

Said to have been an inn since c1540.
Was a Seminary for the Catholic Church.

The ghost of Betty Radcliffe is claimed to haunt the older areas of the hotel, along with a few other departed characters.

Turnpike meeting held here 28th March 1791.

The Norwich to Newmarket Mail Coach stopped here for Sups going up and Breakfast coming down, as reported August 1791 when the host was Mr Radcliffe.


Thomas Coke instigated Wool Fairs here followed by `Sumptuous Dinners for the Gentry'.

The Opening Dinner of Mr. Edwards was held here Thursday 12th March 1829. The excellent dinner was served in the best order with the dessert and wines of the first quality.

In 1830 the coach the ROYAL MAIL called daily at 8:00pm on route from Norwich to London, returning at 6:00am the following morning.

The Telegraph Coach Office, at the Bell Inn, was broken into on Thursday 27th June 1833, 4s 6d was stolen and a coat, waistcoat and trousers were taken from a box belonging to G. Gardiner, Esq.

Robert Edwards informed the public 28th June 1845, that the Norfolk Railway Company had instructed him to provide coaches from Bury St. Edmunds, Eye, Diss, Garboldisham and Botesdale, via Ixworth, to serve the Thetford and Harling Stations. Post Horses were at readiness in Thetford to meet every train.

Repairs to part of the building, damaged by fire, were being carried out during the week ending 28th February 1846. On Friday 6th March 1846 another fire was discovered in the unoccupied room number 4, where the wood mantlepiece and wainscot had apparently been ignited by a spark when the grate had been raked out the previous night. Fortunately the fire was quickly extinguished and the engine was not required.


Valued 25th July 1889 at £2600, including a `dismantled Old Brewhouse and a Fitted Up Butchers Shop'.
Owned by George Samuel Peeling of Barton Mills by 1926
House renamed the BELL INN 2010 following refurbishment.