Licensees :
JOHN SLAUGHTER
02.09.1889
WILLIAM JUNIPER
21.10.1895
GEORGE FEEK
See below
17.10.1898
HARRY CHARLES BRINDED
12.10.1903
JOHN ROBERT BANE
19.10.1931
ERNEST FREDERICK LUNN
29.08.1949
STANLEY REYNOLDS
21.11.1949
CHARLES EDWARD HINES
09.02.1953
REGINALD NORMAN FEEK
08.03.1962
LESLIE WILLIAM GALASKY
24.05.1962
TERENCE JOSEPH HARDY
21.09.1972
STEPHEN COOPER
22.10.1976
WILLIAM JAMES HAMPSON &
MARY HAMPSON
10.03.1977
-
CLOSED by 2011 to 2020
-
Steward & Patteson gave notice to George Fitt, October 1903, since "they did not think he was quite the proper person to keep the house."
On 12th October 1903 it was said that the new tenant was tied to the brewery for supply of beer, spirits and minerals, but not for tobacco. The new agreement included a clause preventing the tenant to close on a Sunday if he desired.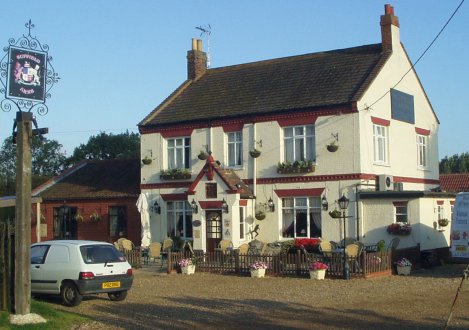 28th September 2006

Original site was in the neighbouring parish of Suffield.
John Slaughter, grocer of Thorpe Market, is reported in the Norfolk Chronicle of 7th September 1889 as making a successful application for a licence for a house `Near Gunton Railway Station'.

Closed 22nd October 1976 under Watney Mann (East Anglia) Ltd.
Reopened as a FREEHOUSE 1977

Closed by 2011 but intended to re-open during 2020.