Licensees :
GERALD HARRY FINN
(Brewery representative )
05.02.1934
SIDNEY CHARLES FIDDLER
20.08.1934
ASHLEY GARY THOMAS
27.07.1953
WILLIAM ROBERTS
27.05.1957
-
JEAN & TREVOR REED
by November 1970
-
MARTIN & CAROL MURPHY
1988 - 1996+
MARJORIE CONNOLLY
April 1997
IAN PERRY
by 2004 - 2013+
-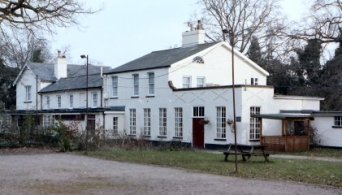 1998

Originally a farmhouse dating from 1700's.

First licensed 1934.

~

EEN Monday Nov 30th 1970

" Has had £4000 spent on it by Anglia Taverns, the general feeling created by the decor is that of a barn. The assembly room will in future be used as a discotheque, five nights a week and be known as the `` Yokel's Local'' ....... ' Footnote...... Anglia Taverns are plunging in with gay abandon so far as their Yokel theme at the Cottage is concerned. They are hoping to have the dee-jays and bar staff equipped with country-style smocks and floppy straw hats. But floppy straw hats are proving a problem - if you know of an untapped source please contact ........"

~
Refurbishment taking many weeks and a considerable amount of money was said to be complete May 1988. During the summer of the previous year newly refurbished bars had been completed and the function room changes had been commenced in March 1988.
Another £20,000 facelift completed according to February 1994 report.
Selling Courage Mild, John Smith's Bitter, Guinness, Stella and Fosters lager in 2003.
~

Refurbished by 2000's and back to a `Popular community pub with a good reputation, especially for food. ' EEN Friday February 15th 2013.

~