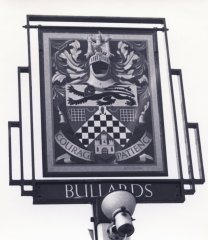 The sign - July 1966
Built by Bullards in 1961.
The cost was 6/- per cubic foot (30 pence)
An increase in rent from £7,500 to £20,000 per year was reported October 1990.
Jasmine, the resident duo performed on the night of Saturday 1st June 1991 and Sunday lunchtimes.
Norwich City Council objected May 1992 to car boot sales, a hot food caravan and a fruit and vegetable stall operating from the car park. Such events cancelled owing to the objection and potential legal action.
April 1993 - Jasmine performing on Friday night, Mark Thomas (50's & 60's) Saturday night and Dexy Karaoke on Sunday. Every Monday the Excelsior Jazz Band.
Saturday 4th May 1997, Jasmine, resident every week.
Sunday 5th May 1997 - Witness.
October 1994 - Offering a Rock Disco every Friday night with DJ Motormouth, not for those easily offended.
Became MILL HOUSE from July 1995