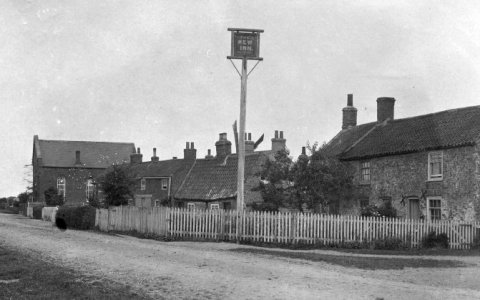 This image shows the unusually tall sign post.
The public house is out of shot, to the right.
View from a postcard with postmark of 24th June 1912.
Application made by Thomas Bart for a spirit licence, 5th August 1870 - Refused.
A loan of £19,000 was secured against the deeds of this house, dated 11th August 1898, along with those of 9 other houses. The deeds were deposited at a bank 6th June 1908, according to a letter dated 8th July 1908.
The same letter confirms the tenancy date for William Fayer as commencing 10th October 1893.
Wine licence for On and Off Sales granted 4th March 1953.
Full licence granted 16th May 1962 upon removal from the
MAIDS HEAD, Hainford.

Closed by about March 1982 ...... with statement from Norwich Brewery representative that it "should be open very soon".

Re-opened Wednesday 24th November 1982.
(Official house reopening Thursday 16th December 1982

Norwich Brewery applied for Residential Development in application 2/823571/O, January 1983.


A Brent Walker house by 1988.

Demolished by 2003 and site rebuilt as housing.