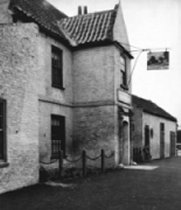 Monday 14th July 1952.
As at Tilney All Saints 1865, 1933 & 1937
For Sale by Auction Saturday 29th July 1837, together with Barn, Stables, Yards and Gardens; Four Pieces of Arable Land of estimated Sixteen Acres. In Occupation of William Duffield under an agreement for seven years, to expire Michaelmas 1843, at the annual rent of £55.
The Messuage and Three Acres being Copyhold of the Manor of Islington and the residue Freehold.
The Kings Lynn Advertiser of 1st August 1838
reported the inquest into the death of the son of John Stockdale, licensee of the Coach & Horses, Tilney.
Part of the Union Brewery Estate, offered for sale by auction Wednesday 25th July 1866 but after only reaching £700, remained unsold.