Licensees :
-
ROBERT BRIGGS
1790
JOHN BRIGGS
(Horse Shoes)
1794
-
THOMAS ULPH
Died Monday 13th February 1843 - age 72
1828 - 1839
JOHN TEMPLE
age 60 1851
& farmer
1845 - 1869
ELIZABETH TEMPLE
Age 78
& farmer
1871
JAMES TEMPLE
(Age 55 in 1871 - a farmer)
1872 - 1896
SAMUEL RENAUT
1900
ROBERT VINCENT SADLER
1904 - 1929
ALBERT VICTOR ANNIS
1933 - 1937
WILLIAM ROBERT COLEMAN
by 1949
DOUGLAS WILLIAM LEESON
19.03.1951
ANTHONY H. VAN BERGEN
24.05.1954
EDWIN JAMES PYNE
11.10.1954
JOSEPH C. WHITE
12.10.1959
GORDON DAVID SIMPSON
27.03.1961
GEORGE JOSEPH GILBERT
13.04.1963
CYNTHIA IVY BURROWS
10.04.1967
EDWARD PLANT &
ALEXANDER SHORT
(Walter, Ted & Beryl)
02.06.1969
WALTER ALEXANDER SHORT
05.01.1970 - 1975
JOHN & MARION PICKERING
from March 1975
ROY & CAROL SPENCER
by 12.1980
DICK & MARGARET ........
by 12.1987
-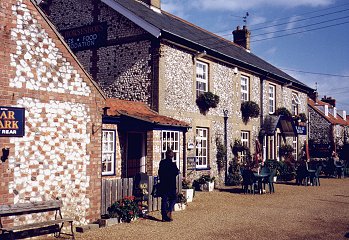 August 1998
For Sale by Auction Wednesday, 25th June 1828.
With Brew-house, Barn, two Stables , Out-buildings and 2A. 1R. 8P. of superior Land. In the occupation of Thomas Ulph, tenant from year to year.
Supper licence granted 9th March 1953
Recommended by D. A. Yates guides for 1969 & 1970.

Operating with a restaurant bias by 1998
Reported closed July 2001
with proposal to turn into private housing.