Licensees :
-
JOHN LARK
age 53 in 1851
*1836 - 1865
Fine of £1 8s and 12s costs for keeping his house open for the sale of beer, at 12 o'clock on Sunday 6th May 1855
HENRY FAIRWEATHER
age 29 in 1871
09.1866 - 1881
Friday 2nd November 1866 : Fine of 1s plus costs of 7s 6d for deficient measures. See opposite.
JAMES NICHOLSON
*1883
WILLIAM MOORE
1887
WILLIAM JONES
age 57 in 1891
1888 - 1894
FREDERICK WILLIAM WARNES
26.10.1894
GEORGE BURGESS
1896
GEORGE SECKER
age 43 in 1901
by 1900
SOPHIA SECKER
07.04.1933
RIBERA GASKIN
25.05.1945
FRANCIS NORMAN ALEXANDER SKINNER
06.07.1945
GORDON CHARLES BLANCHFLOWER
12.03.1954
ROBERT BULLEN
23.05.1969
MAURICE STANLEY FISH
10.10.1969
PATRICK ROY TIMMS
21.11.1969
-
SEAN LENDERYOU
to 2005
MARK FRYER
29.05.2005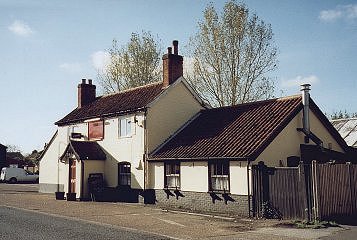 October 2001

In court November 1866, Henry Fairweather was charged with having a earthenware jug, purported to hold one quart, but really deficient of a quarter of a pint. In defence Mr. Fairweather said that he had only taken on the house at Michaelmas and was not aware that his predecessor had left a deficient measure.

WHEELWRIGHTS ARMS 1868.

Offered for sale 21st August 1880.
Then in the occupation of William Cann & Co
at a rent of £42 per annum. Comprising:-
Red brick and tile messuage containing, Kitchen, 2 Sitting Rooms, Back Kitchen, Wash House, Cellar, Dairy, Pantry, 4 Bedrooms; A brick & tiled Barn, Stable, Cow House, Piggeries & Yards : Also 1 Acre 9 Perches of land. Purchased by the Brewer, Mr. Ernest Stammers of East Dereham for the sum of £570.

Objection to the renewal of licence was made on Friday 16th February 1906.

Closure proposed at the First Joint Committee Meeting of Bullards and Steward & Patteson 29th May 1962. Not agreed.