Licensees :
-
JAMES FEATHERBY
plumber, glazier & victualler
1836
EDWARD CLAYDON
1845 - 1846
GEORGE LOCKWOOD
1854
ROBERT RICHES
1856
GEORGE LOCKWOOD
& carpenter & wheelwright
1858 - 1869
JOHN WIX
1871 - 1900
ROBERT WOODWARD
1903
GEORGE YOUNGS
by 1904
Mrs MABEL ELIZABETH YOUNGS
07.04.1930
ALFRED GEORGE HARMER
03.01.1938
HILDA MAUD HARMER
05.01.1948
FREDERICK THOMAS RUSSELL
31.05.1948
-
D. HILDEN
1960
....... BACK
c1962
-
PAULINE & BILL .....
by 12.1976 -12.1977+
WALLY & EIRA ......
by 12.1980
ANDY & LIZ NEEVE
from 09.1985
-
MIKE TUCKER
by 03.2009
RACHEL GRAHAM
here June 2010
-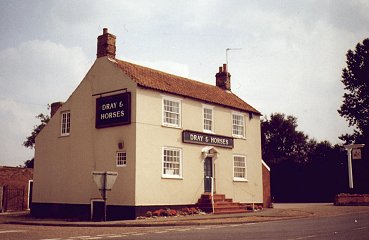 c1986

A small farm was offered for sale by auction, at this house, Wednesday 20th June 1824.


George Lockwood successfully received payment of £2 13s 6d from higgler David Reeve, when they appeared in the County Court 23rd August 1869.
The debt was the balance of the price of a pair of new cart wheels sold to Mr. Reeve some Fourteen Years previously. The price new was £3 10s, but it was claimed that a ten year warranty had been given with the wheels and they had only lasted four.
His Honour said that the wheels should have been paid for long ago and judgement was found for the plaintiff, however his book and evidence were regarded as so unsatisfactory that he was disallowed costs.