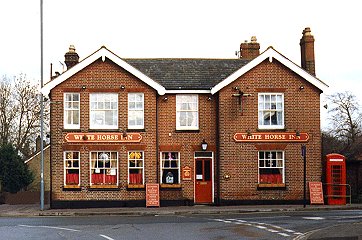 1996
Damaged by enemy action 08.05.1942
~
The Norfolk Chronicle of 17 May 1783 reported :-

Fun! Fun! Fun!
Trowse, first Spring Meeting for Asses will be on Monday next, the 19th Instant. A handsome Saddle and Bridle will be run for by Asses of all Ages, the best of three Heats, from Trowse Toll Bar round the Direction-post (standing between Bungay and Beccles Road) and back again.
To start at half past Six o' Clock in the Evening.
No crossing will be allowed.
Also a Smock will be run for by Fillies.
The Asses and Fillies to be entered at the WHITE HORSE, from half past four till the Time of starting.
Amazing Sport is expected, as many capital Asses have been some Time in training.
Vivant Rex et Regina.
~
Advertised To Let 26th November 1791 - Enquire at Day's Brewery.
~
White Horse & Tea Gardens 1842
~
The accounts of the bankrupt, George Hall, were examined Wednesday 8th December 1847. The assets received were under £240 and consequently only a small dividend would be received by the creditors. Previous to the failure, a return of 5s in the pound had been rejected.
~
A Fully Licensed Inn with good Cattle Lairs and Stables, offered To Let by Messrs. Steward, Patteson, Finch & Co., February and March 1892.
~
Said to be the first ex-Norwich Brewery pub (in Norwich area) to be refurbished as a Brent Walker house, when reopened Wednesday 31st August 1988. (Opening ceremony by former Norwich City FC chairman, Sir Arthur South).
Many thanks to Janelle Penney for the 1783 newspaper transcription
taken with permission, from © film provided by the
British Library Newspaper Library
Thanks also to Robert Campbell.