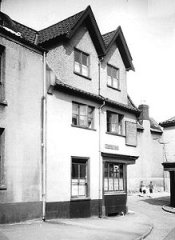 16.08.1936
Image by George Plunkett - shown by permission - Copyright © G.A.F.Plunkett 2002
Stood on the corner of Rising Sun Lane and Prospect Road, opposite Scoles Green.
As the
GOLDEN ANCHOR
1822
T. Holmes, at the sign of the Anchor, informed Farmers and the Public 7th November 1829, that he was thankful for the custom received over the previous six years and advised that he had Improved his Dressing Machines and had sold a great quantity.
John Holmes, Machine and Plough Manufacturer, informed the public 19th November 1831, that he had made a Great Improvement to his Turnip Slicer. He reminded them that his Chaff Cutting Machines could not be equalled for Ridding of Work, Ease and Durability.
Recorded as a Beer House 1846.
Damaged by enemy action 27.05.1942.
The Customs Officer confirmed 01.10.1942 that the house was closed due to war damage. House did not reopen.