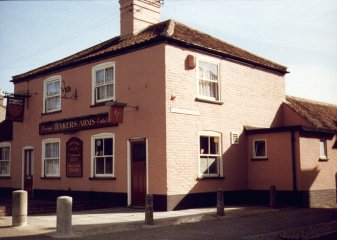 1984
Located on the corner of Saunders Road.
Mill Road 1861
Address as Gas House Hill 1864, 1865, 1875 & 1883.
Location also given as at Mousehold, including in S&P documents.
Licence renewed at Sessions held 19th August 1862.
One of several houses where the licensee had been proceeded against during the year. The offences, for which summonses had been issued were either for selling beer out of hours, for allowing gambling or for permitting persons of bad character to assemble.
(Exact offence at this house not mentioned in report.)
The Chief constable objected to the licence, as reported in the Norfolk Chronicle of 10.02.1906. The grounds were that the internal doors connected directly to the bakery. It was stated that objections would be withdrawn if structural alterations were stared on, or carried out, before the adjourned Brewster Sessions.
A fine example of Victorian etched glass was to be seen in the front door for many years. By 2000 it had been removed, to be mounted on an internal wall in a frame and safely displayed.
CLOSED April 2009

Planning application October 2009 to convert into house, with construction of 4 other houses on rest of site.

Converted to a three bed roomed house by early 2011.