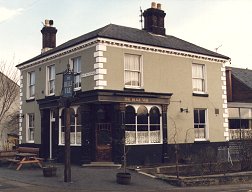 1988 - Image by Barry Wilkinson
On Tuesday 21st August 1877 the application by Steward & Patteson to remove the licence of the Cock & Pye to a new house to be erected in St. Philips, was refused.
This was in spite of the magistrates hearing that some 300 to 400 dwellings were being erected on 16 acres of land, which had been the property of the late Mr. Winter. The applicants believed a new public house was needed. Those in opposition pointed out that the Alexandra was within 110 yards of the proposed site and the Stafford Arms was within 200 yards. At the time of the application, the proposed house stood by itself in open fields with no dwellings near to it. Only some 50 houses had been built on the 16 acre site.
First licensed October 1878 upon removal of licence from the
COCK & PYE.
Damaged by enemy action 27/29.04.1942.

Closed November 2017.
Trading again from 15th December 2017 to Saturday 24th February 2018 and then closed owing to `maintenance issues' which included lack of hot water, heating and drainage problems.
Open again from July 2018.

Closed.

Re-opened 1st July 2022