Licensees :
-
-
TIMOTHY GRIDLEY
woolcomber
1760 - 1764
JOSEPH WALKER
1806 - 1807
W. LOVICK
1810
....... HUFFLEET
widow
1822
CHARLES CARR
age 54 in 1851
age 65 in 1861
& basketmaker
1830 - 1861
MATTHEW LAWS
1864 - 1865
HENRY LIDDLELOW
by 1867
AUGUSTA LIDDLELOW
05.05.1868
THOMAS LEFEVRE
18.10.1881
JOHN DANIEL TAYLOR
10.10.1883
EMMA TAYLOR
09.02.1897
JAMES SUTCLIFFE
24.07.1906
GEORGE HORACE ASHLEY
11.10.1910
GEORGE GAUL
28.11.1911
EDITH GAUL
18.07.1916
GEORGE GAUL
07.10.1919
RALPH HERBERT WALKER
22.11.1927
WILLIAM JOHN COOPER
05.04.1932
Convicted 22.02.1937 of selling out of hours.
Fine £1
LOUIS REGINALD CANHAM
06.05.1941
SAMUEL HORACE BEALES
13.02.1945
House No. 288 on 1845 Magistrates list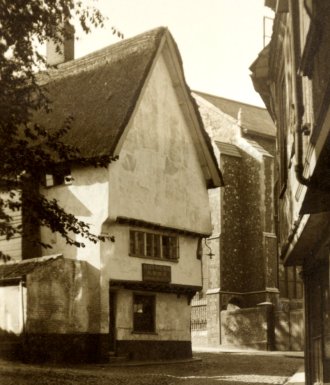 Identified as `Le Godes Hous' 1347.

Said to be the KINGS ARMS to 1804,
but named as the BRITTONS ARMS in 1760 & 1763.

Listed in 1811 as the BRITON ARMS but no licensee given.

The TRUE BRITON 1864 according to Simpson.

Closed for the duration of the war from 01.04.1941,
as letter from S&P dated 09.05.1941.

A letter from S&P dated 23rd January 1945 gives the intent to recommence business and a new licensee was appointed. However it seems that the house never reopened as a public house.

On Tuesday 8th May 1945, Messrs. Steward & Patteson Ltd. applied for transfer of the licence to 1, Rackham Road. The application was opposed by Messrs. Youngs, Crawshay & Youngs Ltd. since the tenants of the nearby Crawshay Arms would suffer. It was said that the Briton Arms was the oldest licensed house in Norwich.
By a majority, the magistrates approved the transfer.



Licence transferred to the LOAF 27th August 1945.

Operates today as a Restaurant / Tea shop.