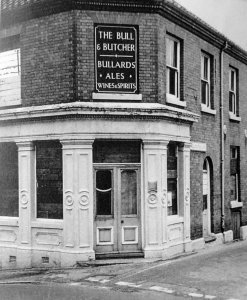 Given by Arderon as
BULL & Ye BUTCHER

.
As the BULLOCK & BUTCHER, St. Giles Hill in 1836, 1839, 1845, 1850 & 1868.
Address also as Duck Lane and in 1854 as at West End Terrace.

Was located on the North side of Pottergate opposite Wellington Lane, on the West side of Duck Lane.

To Let by Auction Thursday, 24th January 1856.
With Dwelling House, Butcher's Shop, Slaughter House, Carpenter's Shop and large Yard adjoining. In occupation of Coleby.

Mr. Coleby was ordered to pay costs of 7s 6d on Saturday 7th November 1857 having been summoned for allowing his (butchery) premises to be in an unwholesome condition, by suffering offal to remain in the yard and otherwise causing a nuisance. Mr. Coleby said that on the day of the Inspector visiting, there had been a great deal of killing and the refuse had been cleared away. The magistrates gave until Wednesday for the premises to be in a clean and proper state.

Closed 26th November 1963 and licence not renewed 1964.

Demolished to allow construction of the inner ring road.





House No. 199 on 1845 Magistrates list