NORFOLK PUBLIC HOUSES
WINE & SPIRIT MERCHANTS
Also agents for Tolly Ales & Stout.
The Barwell family can be associated to several Norwich houses:-

The CORN EXCHANGE, Haymarket and The CORN EXCHANGE, Exchange Street

The DUKE of SUSSEX - Known as BARWELLS from 1843 to 1942.
Listed 1938 as Norfolk depot for Tolly Ales & Stout and as Barwell & Sons Wine Merchant.
The PIGEONS, 16 Charing Cross (Later to be the HOG IN ARMOUR)
The TUNS, St. Andrews Hill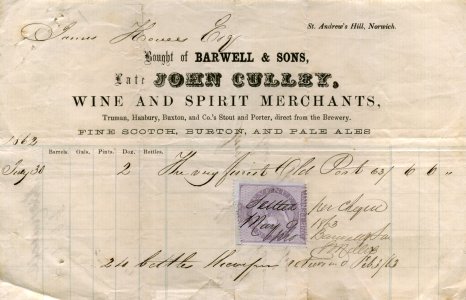 Invoice dated 30th July 1862
Receipt dated May 9th 1863